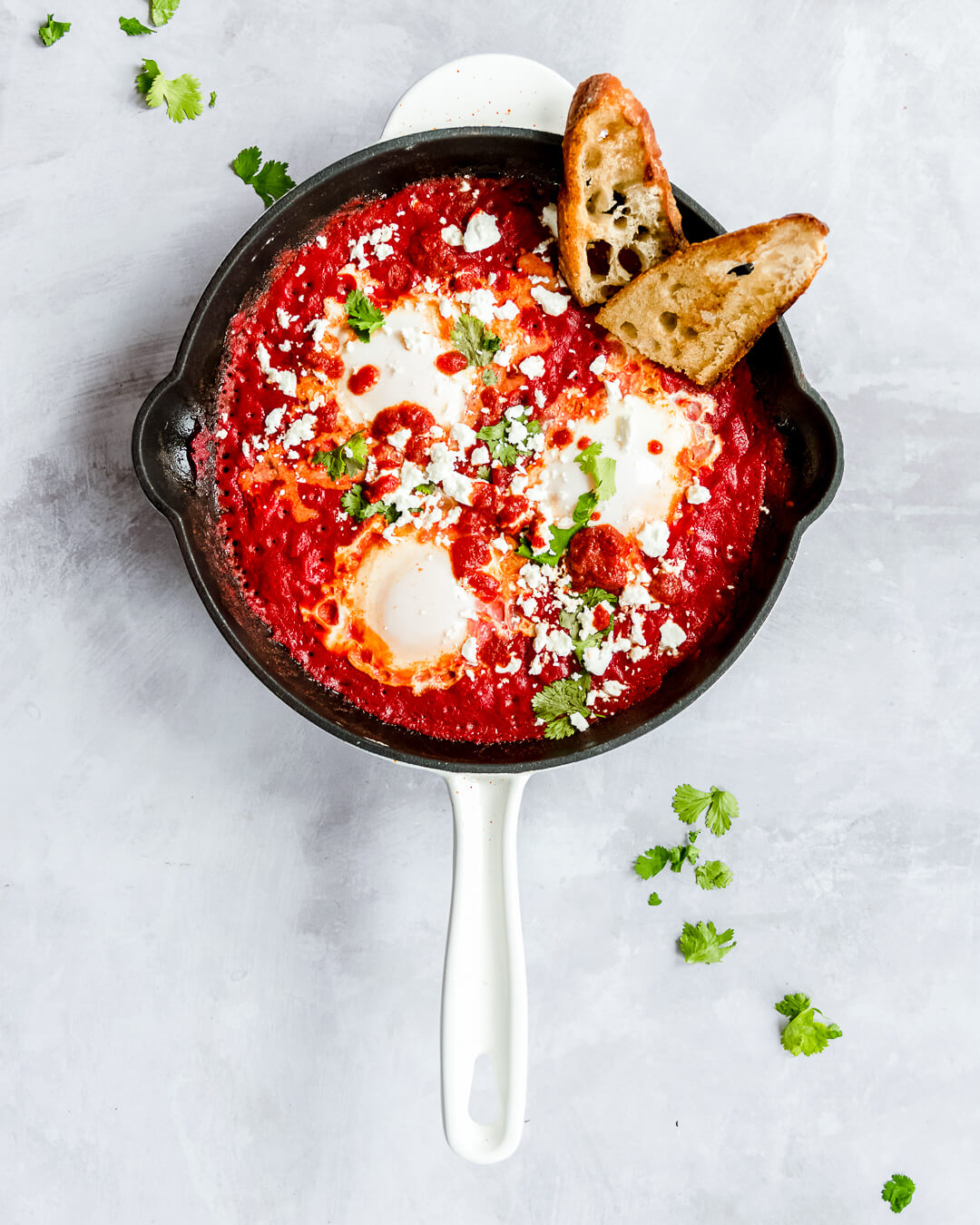 Shakshuka is a typical Middle Eastern breakfast. We're not really used to a heavy breakfast like this but I absolutely love it. You can, of course, also serve it for lunch.
Healthy, no effort and intense flavour.
The combination of spices are very intens and flavourfull. I really love it with toasted bread. I have a perfect sourdough recipebut it takes some time to make a sourdough bread. This dish does need some cooking time. You want to get rid of the sourness of the tomato and you can do that by letting it simmer for a bit.
Harissa
I added a bit of harissa on top. Harissa is a mixture of chilipeppers and gave it an extra kick.
Shakshuka
Ingredients
4

eggs

1

can

diced tomato

1

onion, diced

1

red

bell pepper, cut in strips

1

teaspoon

cumin

1

teaspoon

paprika powder

1

clove

garlic, chopped

1/4

teaspoon

chili flakes

feta

pepper and salt

feta

fresh coriander

toasted bread

bit of

oil
Instructions
Heat up a bit of oil, add the cumin and the onion.

As soon as the onion is transparent add the garlic, bell pepper, chiliflakes and paprikapoweder

Once the bell pepper has softened add the tomato and season with pepper and salt. Let this simmer for at least 10 minutes.

Make pockets for 4 eggs and drop them in, gently.

Put a lid on top and let simmer until the eggwhite has set, this takes about 5 minutes.

Garnish with feta and koriander