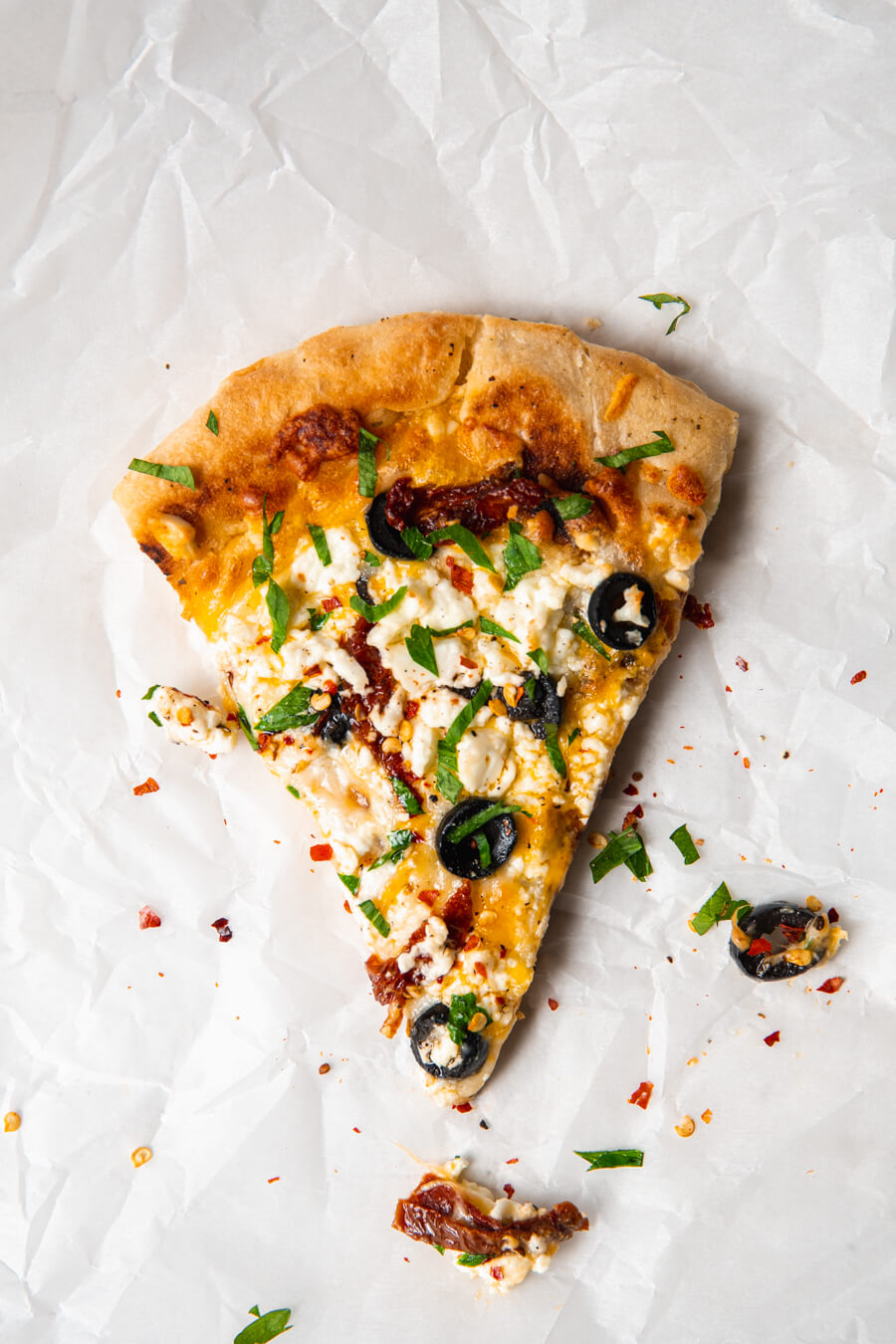 Sometimes you just think of an awesome combination and this was definetly one of those times.
Greek pita pizza
You probably know the 'hack' of making a pizza out of a regular pita bread. I'm not a fan, it's too dry as is and some tomatosauce isn't going to fix it. For those that want to try this, make your own pita bread. You can find a receip in my cookbook Vers Deeg).
But I digress because this is something different. Here we make our own Greek pita., we bake it in a pan just like the original recipe and then we bake it in the oven until the cheese has melted. Yes, you can make a pizza instead but this is quicker (only 1 rise) and you can make this with leftover pita.
I used a bigger portion of dough than I normally would for a pita, because I wanted to make an actual pizza shape. 1/4 part of the dough instead of 1/8 part.
Toppings
To stay in the Greek theme I topped my pizza with feta, olives and sundried tomato. I didn't use any tomato sauce, the base is a mix of grated cheddar and mozzarella. I always use grated mozzarellathat's low in moisture. That's perfect for melting.
Greek pita pizza
Ingredients
1/4

portion Greek pita dough

25

grams

grated cheddar

25

grams

grated mozzarella

25

grams

feta

1

tablespoon

black olives, cut in rings

1

tablespoon

sundried tomato, cut in strips

fresh parsley

pepper and chiliflakes
Instructions
Preheat the oven to 180 degrees celcius.

On a lightly floured countertop, spread out the dough into the size of your pan. Heat up some sunflour oil in the pan and transfer your dough in the pan. Sprinkle some sunflour oil on top.

Bake until both sides are golden brown.

Remove the pita from the pan and transfer to a baking sheet. Divide the cheddar and mozzarella on top, then the feta, olives and sunflour oil. Bake until the cheese has melted, 5 to 10 minutes.

Garnish with freshly cut parsley and pepper and chili flakes. Serve immediately.