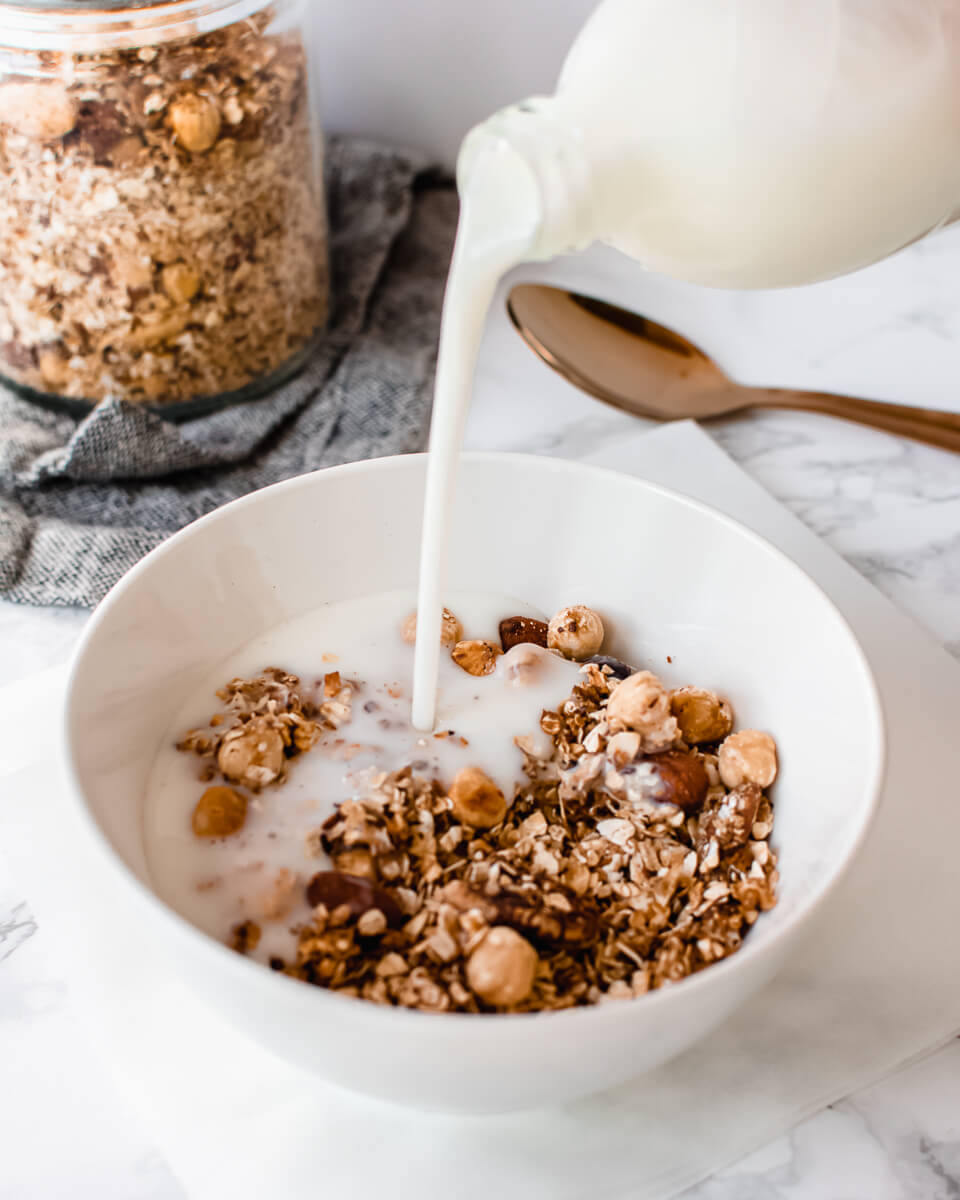 I really like granola when it's a little bit warm. You can make this granola fresh every day! It's a very quick and easy recipe, you'll bake the granola in a pan instead of in the oven. You'll be ready in 10 mins!
Granola, very versatile
Granola is an easy dish because it's so versatile. You can basically add whatever you have left. Think of nuts, coconut, cacao nibs, linseed, oatmeal etc. You can also make a lowcarb version by leaving out the oatmeal. You might want to be cautious with how much you eat because nuts and coconut are high in calories.
I like to eat this granola with yogurt and fruit, especially when it's still warm like in this dish with peach..
Mealprep
You can also make loads to take to work. I do recommend you cooking it on a sheet pan in the oven so you can make more in one go.
Portions on intuition
The recipe depends a lot on how much you want to make. I usually eat once or twice from this amount. Want more, double or triple the ingredients.
Quick and easy granola
Homemade granola done in a jiffy
Ingredients
30

grams

oatmeal

handfull

mixed nuts

handfull

coconut

1

tablespoon

linseed

1

tablespoon

oil

1

teaspoon

vanilla essence

1

teaspoon

cinnamon

optional: honey
Instructions
heat up the oil in a baking pan, add all the ingredients (except for the honey if you want to add that) and bake until brown and it smells amazing.

If you want to add honey, slide all the ingredients to the side en pour the honey into the pan. It will bubble immediately. Than mix with the granola, turn the gas off and let cool off for a bit.