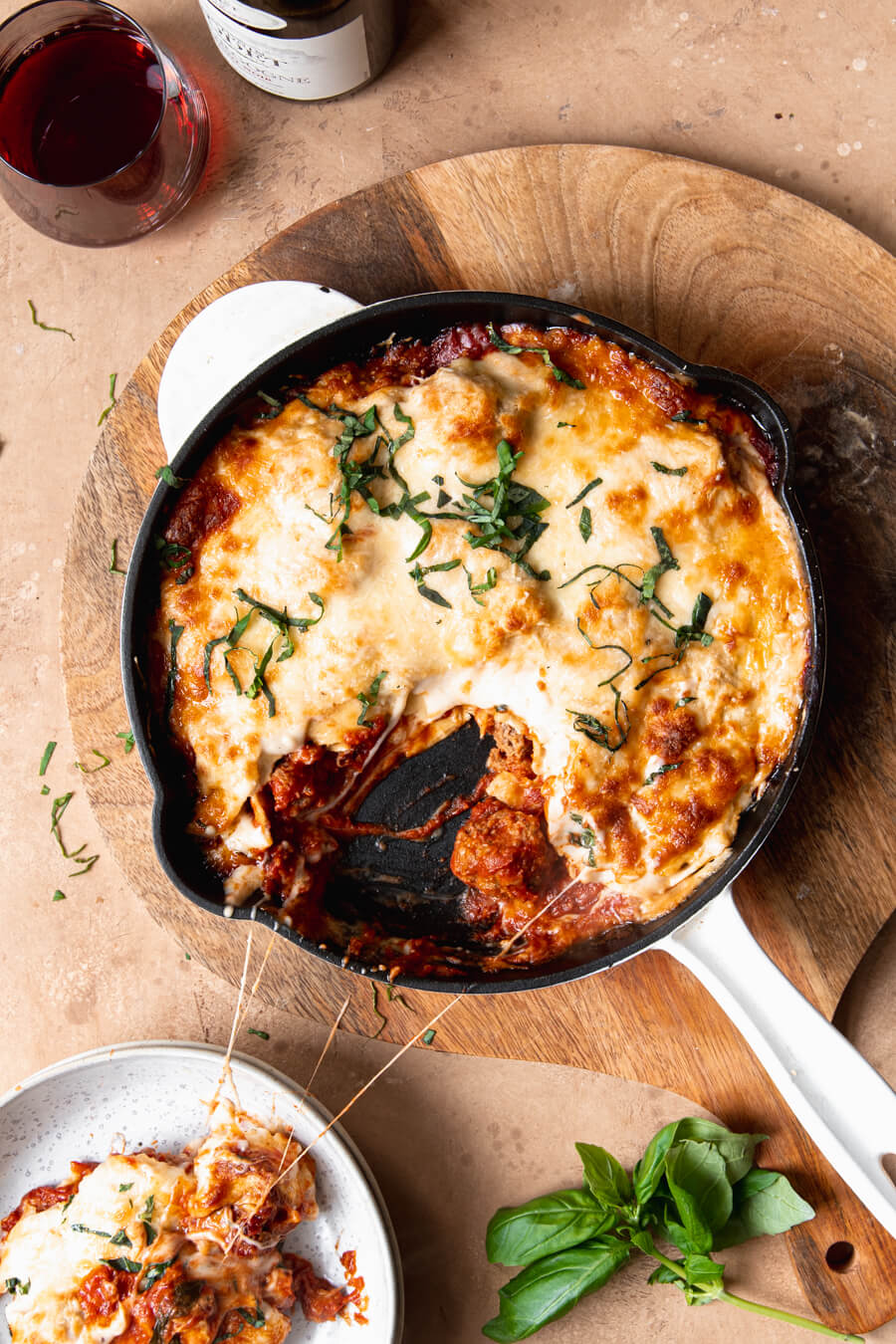 One of my favourite pasta dishes was spaghetti with meatballs.I say was because this lasagne went straight to number one. The meatballs are moist, the tomato sauce rich, the homemade pasta fluffy and the cheese is just the cherry on top.
I even went back for seconds and so did my husband. We normally never do this.
Lasagne with meatballs
I made my own pasta, but if you don't want to I can recommend using the fresh pasta from the supermarket. The dried version takes a lot longer to cook in the oven. The recipe for homemade pasta is in my cookbook Vers Deeg but that's only in Dutch.
What's important for a good tomato sauce is to take your time with cooking. It needs at least 30 minutes of simmertime.
I added bruised basil and the crust of my parmesan cheese as well, for an extra intense flavour.
Bechamel
On of the most important things for me is bechamelsauce. It just makes your lasagne way more creamy and rich.
Mozzarella
Important tip, always get a grated mozzarella that is low moisture. Do not grate a bol of mozzarella, this is way to wet and you'll end up with a layer of water on your dish.
Lasagne with meatballs
Ingredients
For the meatballs
500

grams

ground beef

75

grams

panko

1

egg, raw

1

teaspoon

salt

1"

teaspoon

pepper

1

tablespoon

dried parsley

3

cloves

garlic, chopped

sunflour oil for baking
For the tomato sauce
700

grams

passata, tomato sauce

1/2

cube of beef stock

1

sprig

basil

crust of a parmesan cheese
Voor de bechamelsaus
1

tablespoon

unsalted butter

1

tablespoon

flour

300

ml

milk

salt
further
300

grams

lasagne sheets

150

grams

grated mozzarella

50

grams

parmesan cheese
Instructions
Mix for the meatballs all the ingredients (except for the sunflour oil) together and make balls of around 2cm diameter.

Heat up some sunflour oil and bake in a big pan until brown.

Add the passata together with a crumbeled up half a block of beef stock and stir. Then crush the basil and add that together with the crust of the parmesan. Let this simmer with the lid on for 30 minutes. Remove the crust of the parmesan.

Preheat the oven to 160 degrees celcius.

When the sauce is almost done start baking the bechamel. Heat up the butter, add the flour and stir for a minute to cook the flour. Add the milk slowely and stir. Ceep cooking untik you have a thick sauce then season with salt.

To build the lasagne, start with a layer of sauce and 1/3 of the meatballs. Add some mozzarella, then a layer of pasta. Do this 3 times and end with a layer of pasta.

Divide the bechamel on top, make sure all the pasta is covered.

Divide the rest of the mozzarella on top together with the parmesan. Bake for 20 minutes, then turn on the grill and bake until the cheese is bubbling.

Let it cool off for 10 minutes and then serve.
Notes
De reden dat ik de oven laag hou is omdat de kaas anders krokant bakt en ik hou van een zacht gesmolten kaas op mijn lasagne. Het laatste grill momentje kleurt de kaas nog mooi goudbruin.