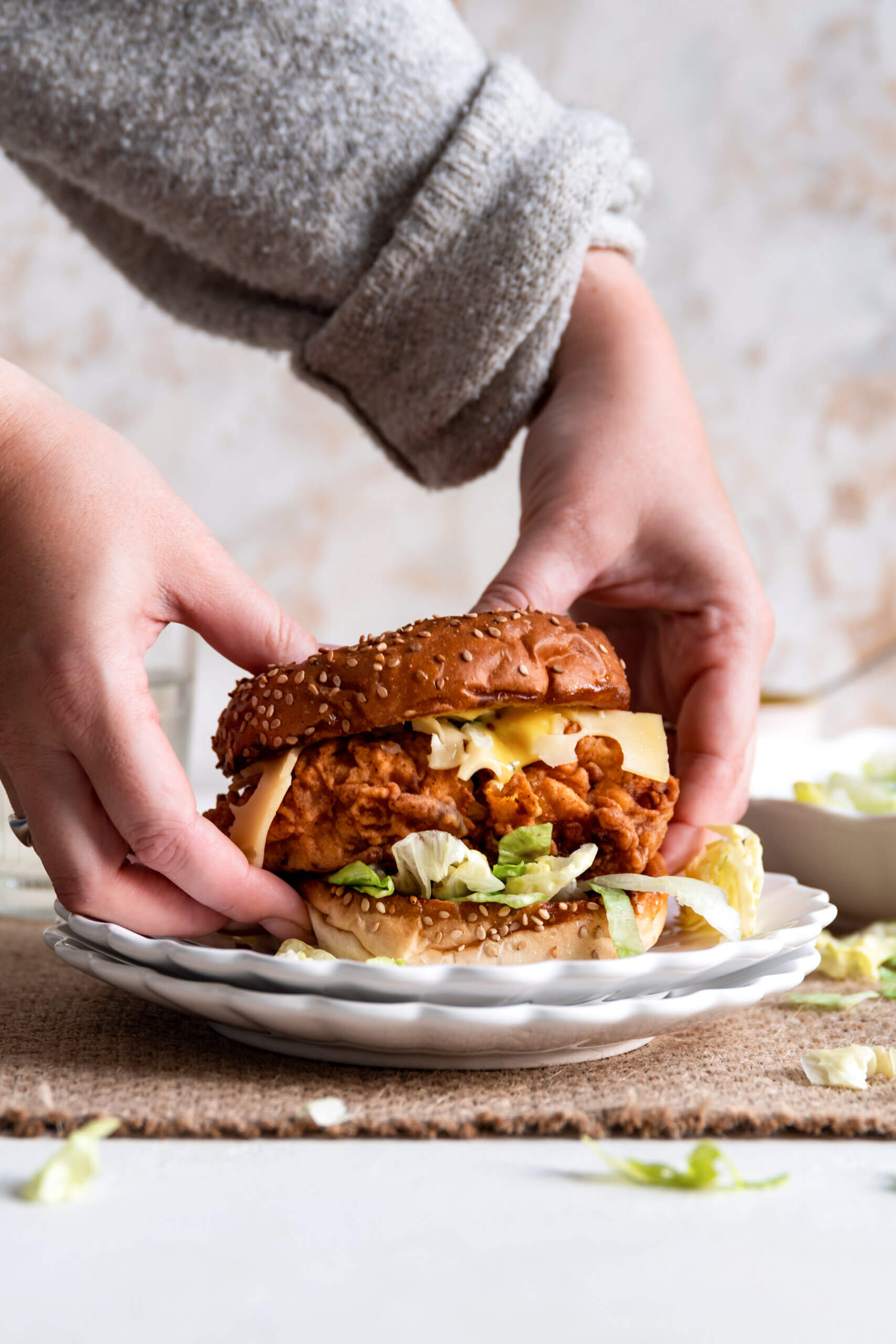 Crispy chicken burger with a honey mustard sauce
A few weeks ago we had a pitstop at a well known fastfood joint (the one with the yellow M) and they had a new burger!
Crispy chicken
This one kind of looks like the wraps that were also inspired by the same fast food joint. The result that is, the preperation is totally different because in this recipe we fry the chicken.
Frying
I don't own a fryer so I just fill up a high pot with sunflour oil and fry in that. I don't know about the rules where you live but in The Netherlands we can throw away old/used oil in the trash.
Brioche buns
I prefer to make brioche buns for my burgers but I decided to make this last minute so I bought my buns this time. The recipe for the brioche buns is in my cookbook Vers Deeg.
Crispy chicken burger with a honey mustard sauce
Crispy chicken burger with a honey mustard sauce
Ingredients
For the chicken
2

chicken breasts

500

ml

buttermilk

200

grams

flour

1

tablespoon

paprika powder

1

teaspoon

garlic powder

1

teaspoon

cayenne

1

teaspoon

onion powder

1

teaspoon

salt
further
4

slices of

a sweet cheese like emmentaler

3

tablespoon

mayonaise

1

tablespoon

mustard

1

tablespoon

honey

4

bladeren

iceberg lettuce, cut in strips

knob of butter

4

(brioche) hamburger buns

1

liter

sunflour oil for frying
Instructions
Cut the chicken in half and pound the thicker parts until you have 4 equal parts chicken. Let the chicken and buttermilk sit for at least 30 minutes.

Mix the flour with the spices and set aside. Heat up the oil to 180 celcius.

Make the sauce by mixing the mayonaise, musterd and honey.

Add 3 tablespoons of buttermilk to the flour and shake. This will create lumps which makes the chicken extra crispy.

Get the chicken from the buttermilk and coat with flour. Make sure everything is well coated. Fry for about 5 to 7 minutes until golden brown and cooked. Do this in batches if you're using a smaller fryer or pan. Transfer the baked chicken onto a cooling rack, but put the cheese on immediately so it can melt a bit.

Slice open the buns, put butter on and bake in a pan until the cut sides are golden brown.

Divide some sauce on the bottom part of the bun, then the lettuce and the chicken with cheese. Add some sauce on the top part of the bun and place on top of the chicken. Serve immediately.