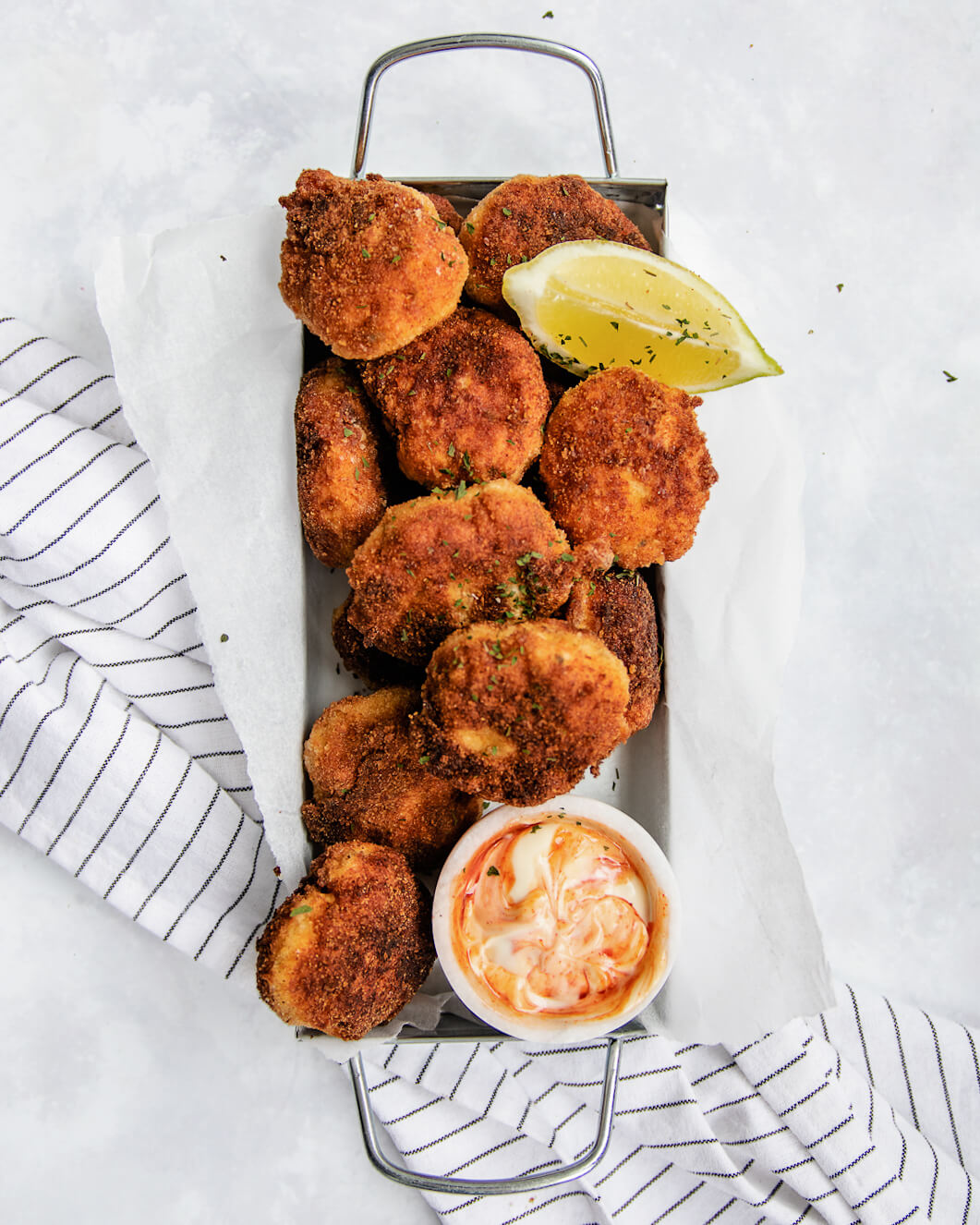 Whenever we go to MacDonalds, which we don't do often because I look 6 months pregnant afterwards, I'll always get the chickennuggets. Also because I don't like the burgers there but I also genuinely like the nuggets.
Chickennuggets
But this wouldn't be a recipe blog if I would tell you to go to MacDonalds. And because I love cooking from scratch I decided on making my own chickennuggets.
Foodprocessor
You are going to need one, that or a blender. It's time consuming to chop your chicken that finely.
Spicy
I like spicy foods so I added a bit of hotsauce to my chickennugget. This is of course optional so If you don't like spicy food you can just leave it.
Quick and easy
It may not be as easy as frying store bought nuggets but it's still very easy and done quickly.
Chickennuggets
Ingredients
2

chicken breasts

1

teaspoon

salt

1/4

teaspoon

pepper

1/4

teaspoon

garlic powder

1/2

teaspoon

onion powder

1/2

teaspoon

parsley

1

tablespoon

hotsauce

bowl of

panko

30

grams

parmesan cheese

1

egg, raw

2

tablespoon

mayonaise

1

tablespoon

sriracha

sunflour oil for frying
Instructions
add the chicken together with the salt, pepper, garlic powder, parsley, onion powder and hotsauce in the foodprocessor and pulsate until you have a finely chopped mass.

Mix the panko together with the parmesan cheese. In another bowl, beat the egg.

Get a tablespoon of your chicken and roll it into a ball. Soak in your egg and then through the panko mix. Flatten a bit so you get a nugget shape. Repeat with the rest.

Heat up a large pan with sunflower oil. It's warm enough when it starts to sizzle if you put some chicken in. Fry all you nuggets until golden brown and done.

Let the nuggets drip out on some kitchen paper. In the meantime we can make the sauce, just mix the mayonnaise with sriracha. Serve with lemon.