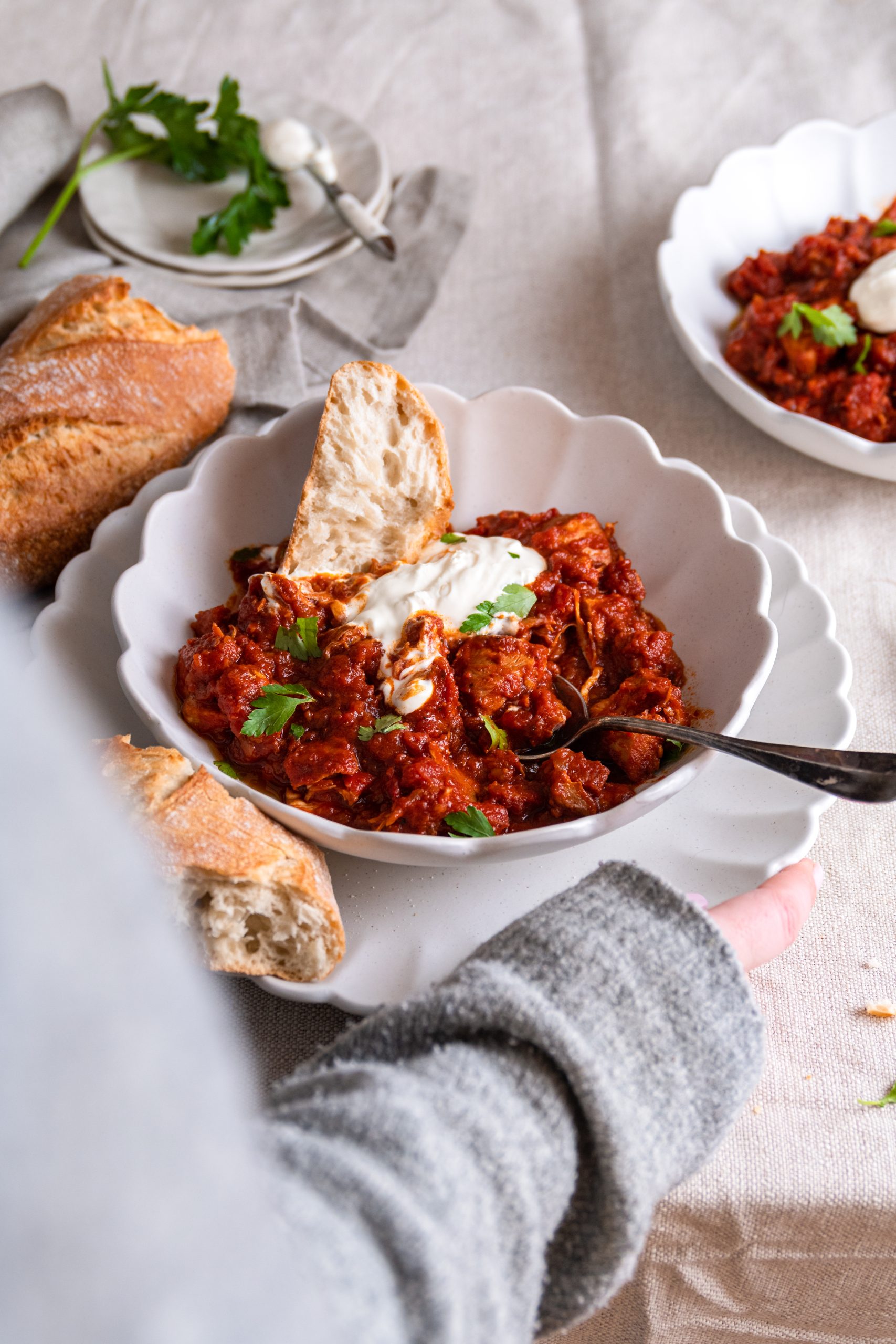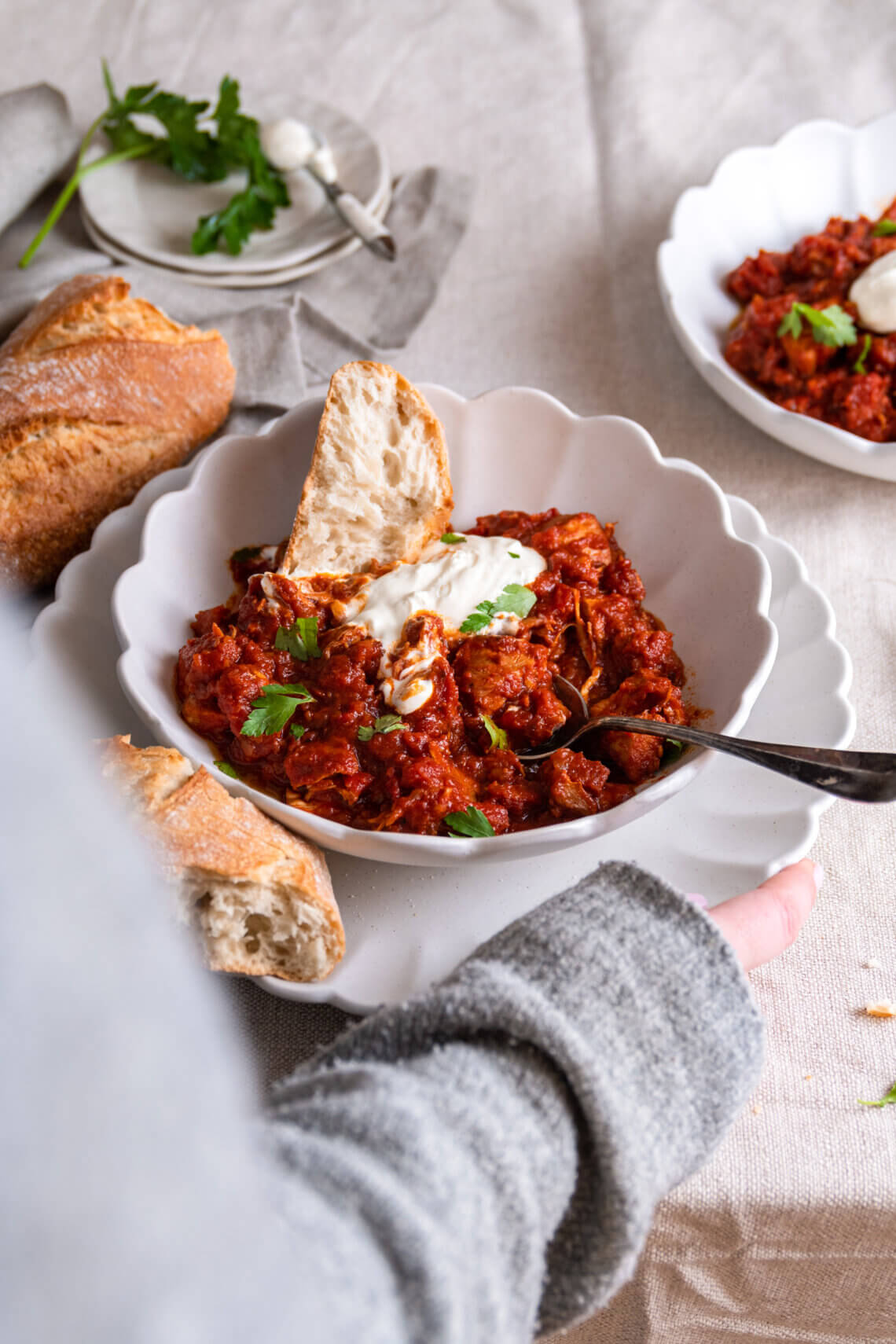 Chicken stew with chorizo
I did't have a fancy title for this dish so I just called it chicken stew.
Chicken stew
We went to a dinner party at friends and this was bubbling away. It smelled and tasted amazing so I asked my friend for the recipe. She said she just adds stuff to the pan, but gave a general idea of what she added.
Normaal ben ik trouwens geen groot liefhebber van chorizo, maar die rokerige smaak maakt dit gerecht echt dus laat dat niet weg! Ik bak de chorizo eerst apart in een pan zodat alle vettige stukjes eraf gebakken wordt, dan voeg ik alles toe aan de stoofpot. Ook het vet dat eraf gekomen is, voegt namelijk super veel smaak toe. Ik vind zelf het vet niet erg of vervelend, ik hou alleen niet van de structuur van harder vet in mijn vlees.
Side dishes
Ik heb hier stokbrood bij geserveerd en los ook nog wat gegrilde groenten, courgette en paprika. Je kunt er ook makkelijk een simpele groene salade bij doen. Serveer er sowieso wat creme fraiche bij, het licht zurige breekt de smaak van de stoofpot een beetje. Voegt een fijne afwisseling toe vind ik zelf.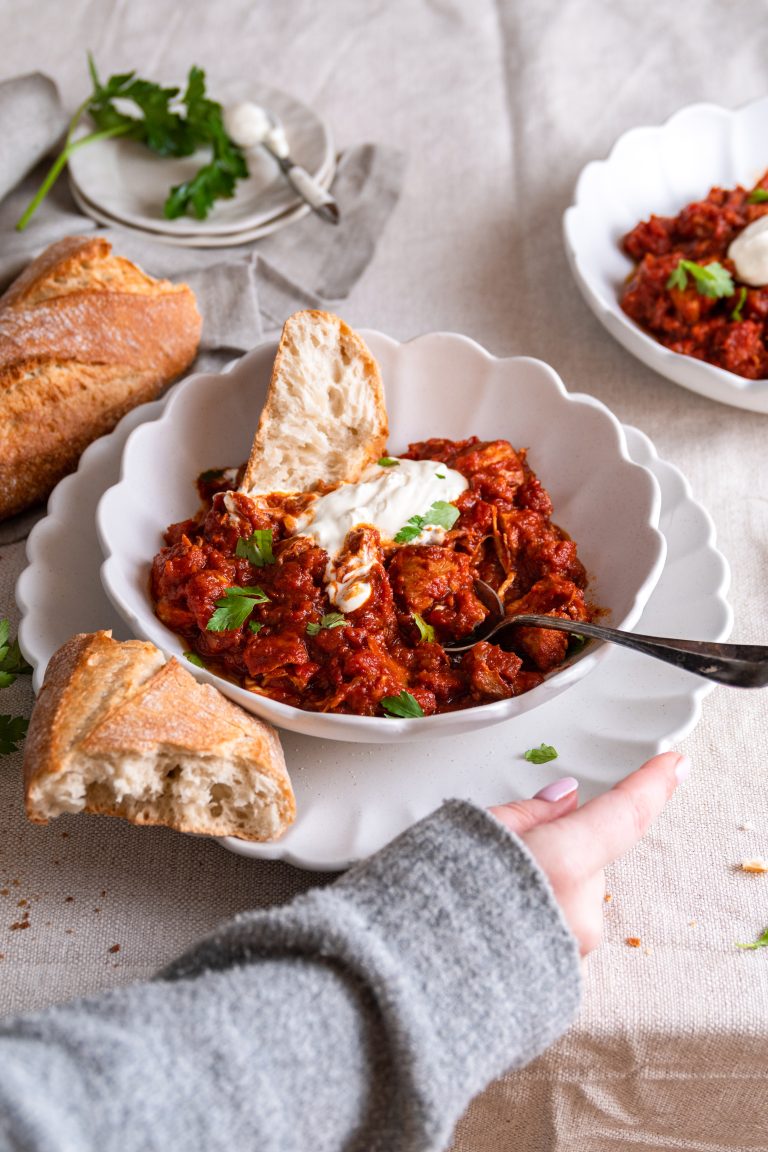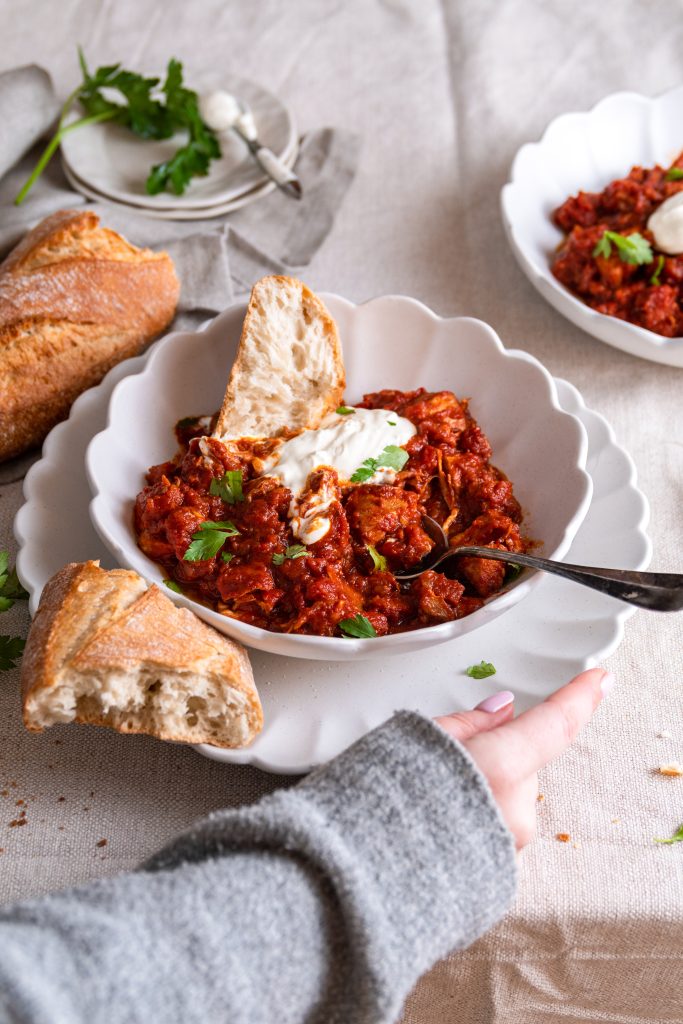 Chicken stew with chorizo
Chicken stew with chorizo
Ingredients
knob of butter

1

onion, diced

3

cloves

garlic, chopped

1

red chili, finely chopped

2

chicken fillets, diced.

2

tablespoon

tomato paste

100

ml

red wine

1

can

tomato cubes with basil

1

tablespoon

red tapenade

1/2

teaspoon

oregano

100

grams

chorizo, diced

pepper and salt

fresh parsley, chopped

creme fraiche
Instructions
Heat up a knob of butter in a Dutch oven and sweat the onion, garlic and chili.

Add the chicken and bake until the chicken is browned.

Ad the tomato puree and stir for a minute or so. Add the wine and cook until most had evaporated and you have a thick tomato sauce.

Add the tomato cubes, the tapanade and oregano, season with salt and pepper en let this simmer for 2 hours. Stir ocasionally.

Bake the chorizo until crispy and add this, including the fat in the pan, to the chicken. Stir and let simmer for another hour.

Divide on to 2 plates, garnish with fresh parsley and creme fraiche. Serve with baguette or grilled veggies or a green salad.
Ben je dol op stoven? Probeer dan dit recept van rundvlees kleftiko eens.