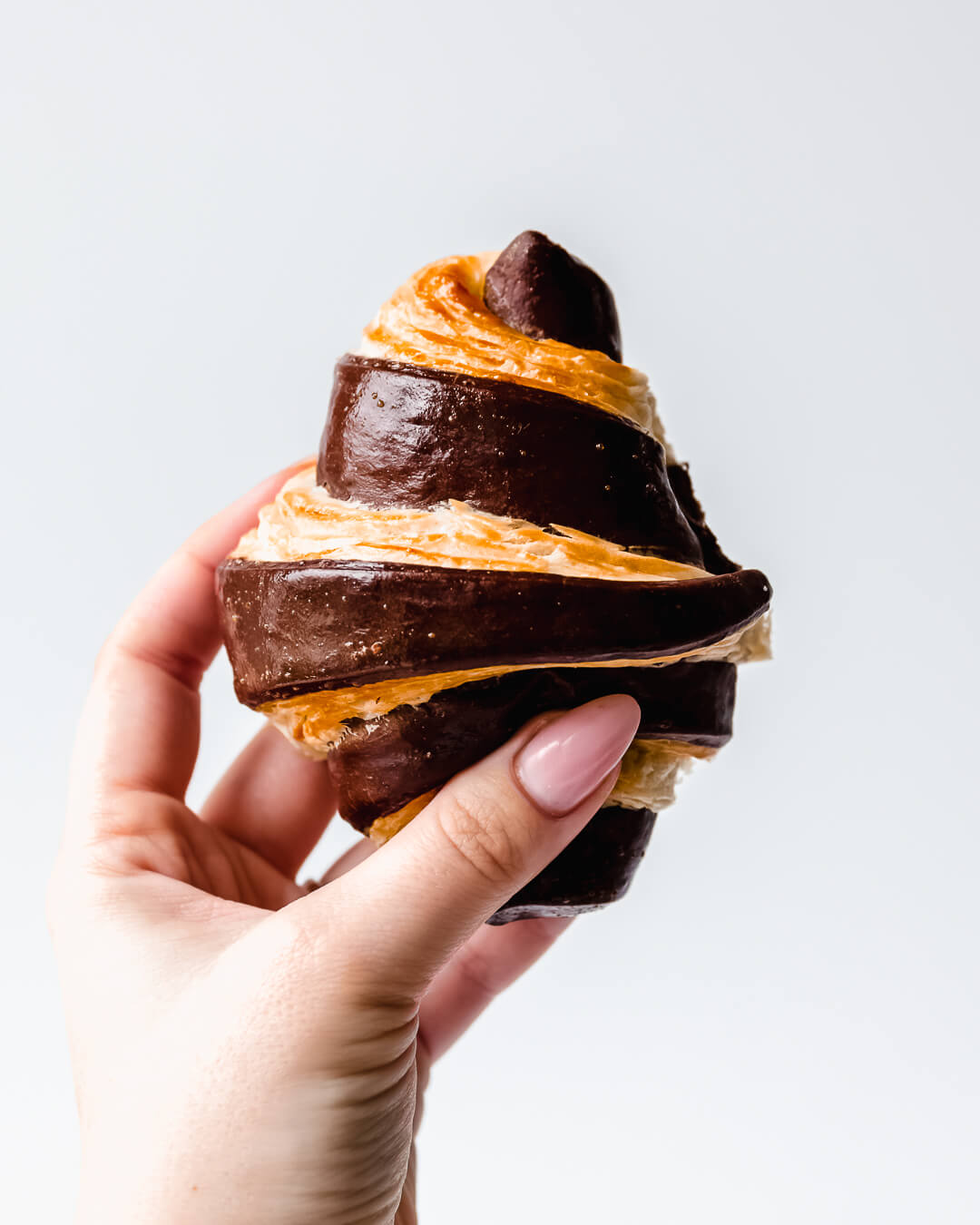 Het idee van gerezen bladerdeeg is dat je boter in het deeg vouwt en dit elke keer uitrolt en dubbel vouwt op een bepaalde manier. In de oven bakt de boter alle laagjes en dit zorgt dus voor zo'n heerlijk luchtige croissant of chocolade broodje.
Ik ga niet liegen.. het is een lang proces. Deze maak je niet even snel, je hebt minimaal 2 dagen nodig. Dus als je op vrijdagavond begint heb je zaterdagmiddag verse croissants danwel chocoladebroodjes.
Het proces is wat lastig uit te leggen dus heb ik een handig filmpje gemaakt waarin ik onderstaande stappen laat zien
Duo colour croissants
Naast gewone croissant laat ik ook deze duo colour croissants zien. Het lijkt misschien super moeilijk, maar zoals je in het filmpje kan zien valt dat reuze mee. En als je toch al bezig bent kan je net zo goed een paar van deze maken, toch?! Je maakt een extra portie deeg met cacao en dit leg je op het einde op je uitgerolde gerezen bladerdeeg. Dan snij je punten voor de croissants en rol je, met cacao kant naar beneden, de croissants op.
Tips
Het is belangrijk op de croissants goed te laten rijzen met de 2e rijs. Hou rekening met ongeveer 45 minuten, maar als het koud is in huis kan het langer duren. Let dus vooral op het deeg, de croissants moeten een beetje trillen wanneer je de bakplaat schudt. Verder, na het oprollen van de croissants, leg ze dan op een bakplaat met bakpapier met het uiteinde (de punt) naar beneden. Dan rolt de croissant niet uit tijdens het bakken.
Croissants and duo colored croissants
Croissants and duo colored croissants
Necessities
measuring tape

Sharp knife
Ingredients
250

grams

flour

130

grams

lukewarm water

7

grams

dry yeast

30

grams

sugar

25

grams

melted butter

5

grams

salt

200

grams

boter (voor toeren)
Instructions
Mix the water with the yeast and let it sit for 5 minutes until foamy.

Mix the flour with the sugar, salt, melted butter and then add the yeast water. Knead until you have a smooth dough.

Cover the bowl with you dough with plastic wrap and let this sit overnight in the fridge.

Cut your butter into 6 thick slices and put them in a square on a piece of parchment paper. Fold tightly and roll with your rolling pin so that you have one big slab of butter. Put back in the fridge.

Roll the dough out into a big square. Place the butter in the center and fold the dough over. Make sure the dough is entirely encapsulated with butter. Roll into a long rectangle.

Fold the bottom part 2/3 up, fold the upper part 1/3 down. Make sure the ends touch. Then fold double. Cover with parchment paper and let it cool off for at least 30 minutes in the fridge.

With the seems at the top and bottom, roll our your dough again. Fold it envelope style so with the bottom part to the center and the upper to the bottom. Wrap in parchment paper and let cool of for 30 minutes again.

Roll the dough out to a slag of 45 cm long by 15 cm wide. Slice triangles of 10 cm long and 15 cm wide.

Roll up your croissants starting with the wide side going to the tip.

Coat your croissants with an eggwash and let is rise for about an hour. You can put them in the oven with just the light on. 

Take the croissants out of the oven, preheat to 180 degrees Celsius, coat the croissants with the egg wash again and bake them for about 20 minutes.
Notes
In order to get the duo coloured croissants you'll also need the make the following dough.
100 grams of flour
25 grams unsweetened cacao
70 grams water
3 grams yeast
12 grams melted butter
158 grams sugar
3 grams salt
- Make this dough while making the other white croissant dough 
- After your croissant dough is ready and rolled out for the last time you can roll out this dough and place it on top.
Roll out together gently and proceed with step 8., cutting the croissants.
Make sure to place the cacao side down while rolling up the croissants.
Dit artikel is een samenwerking met Kerrygold