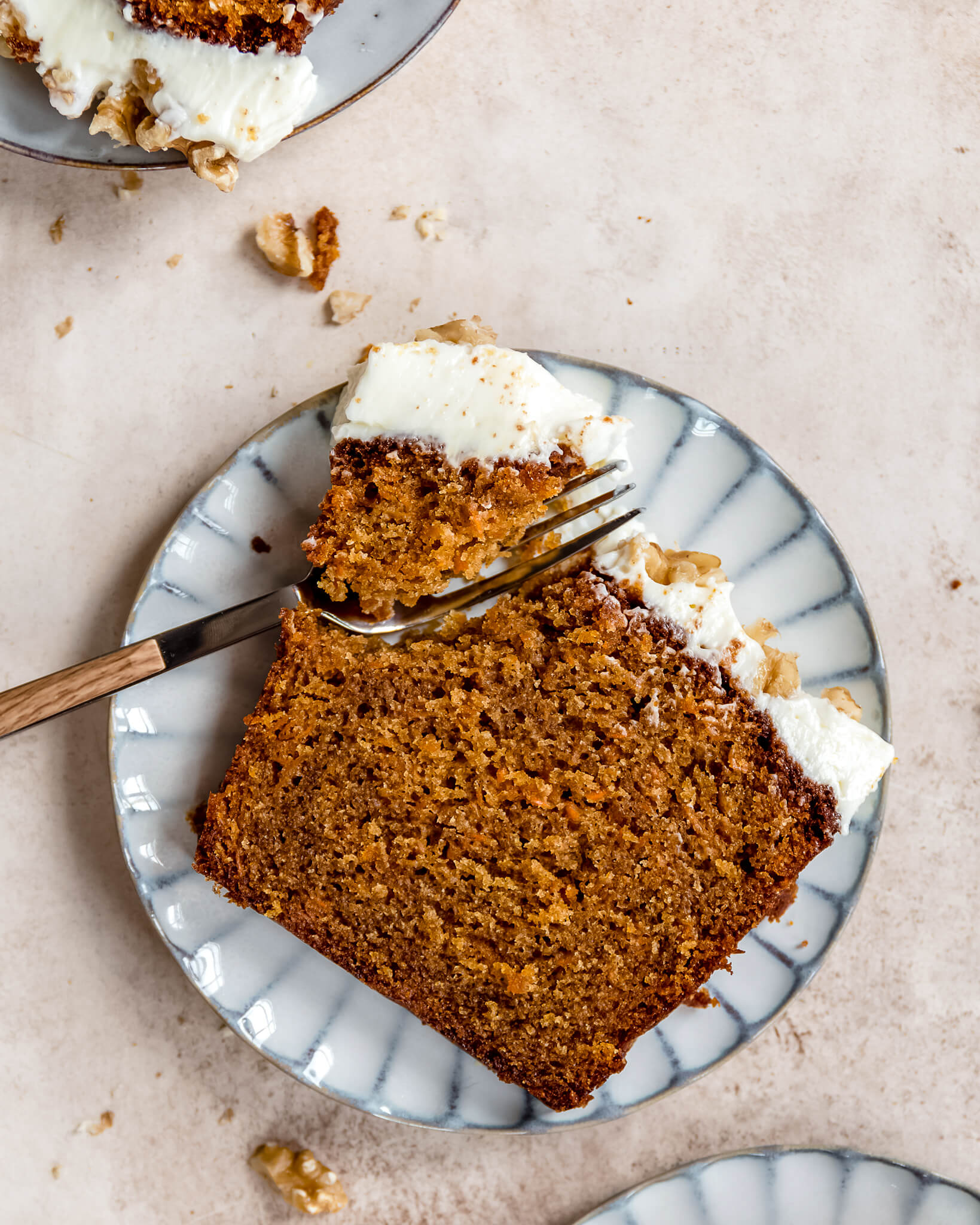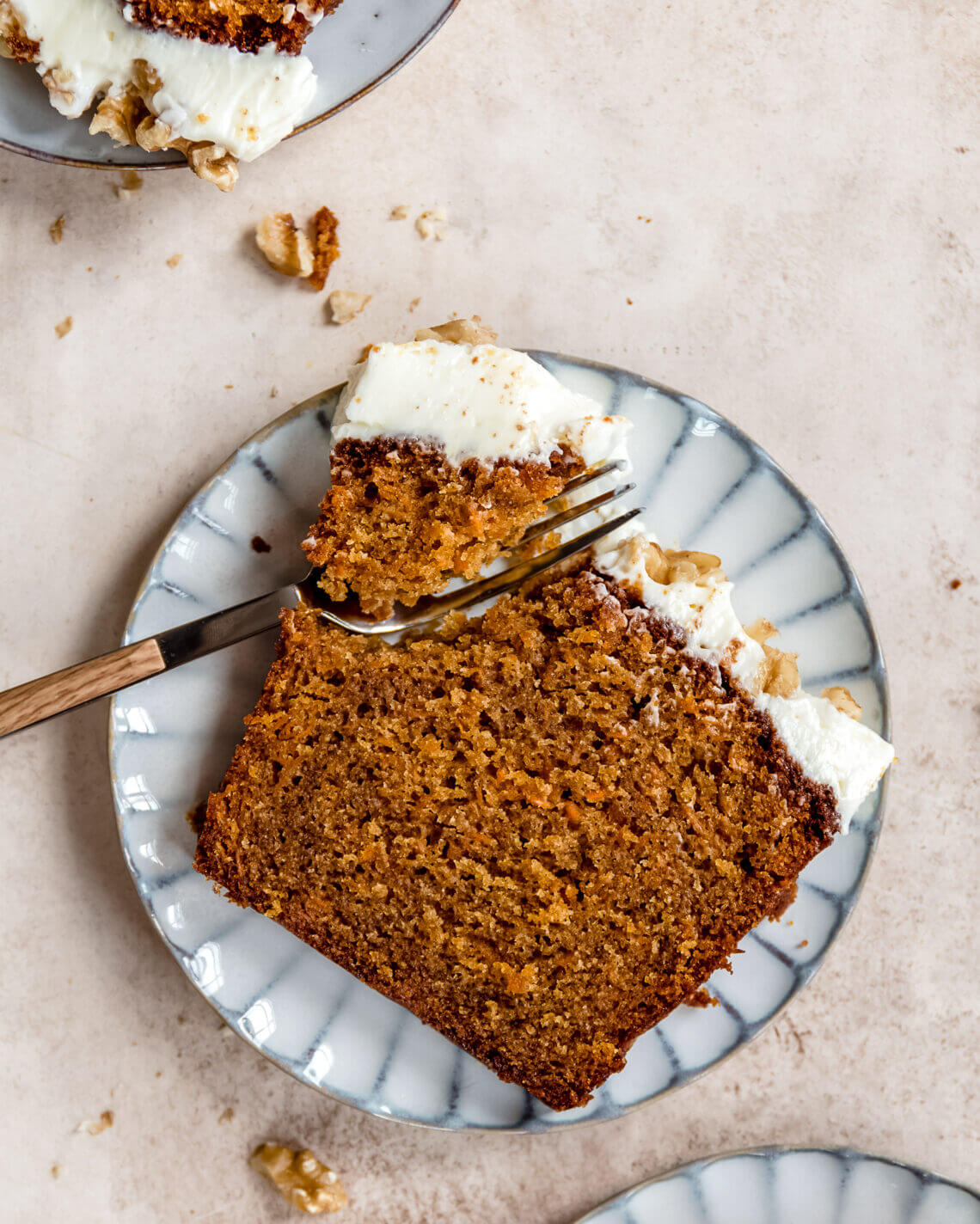 This is a very winter cake because of the spices, cinnamon, nutmeg and ginger. But it's not true that you can only eat this cake in the winter, I like it all the time!
Carrotcake
The name gives it away, this cake is full of carrots. You don't taste them though, but they do make for a very moist cake. Together with the sunflour oil!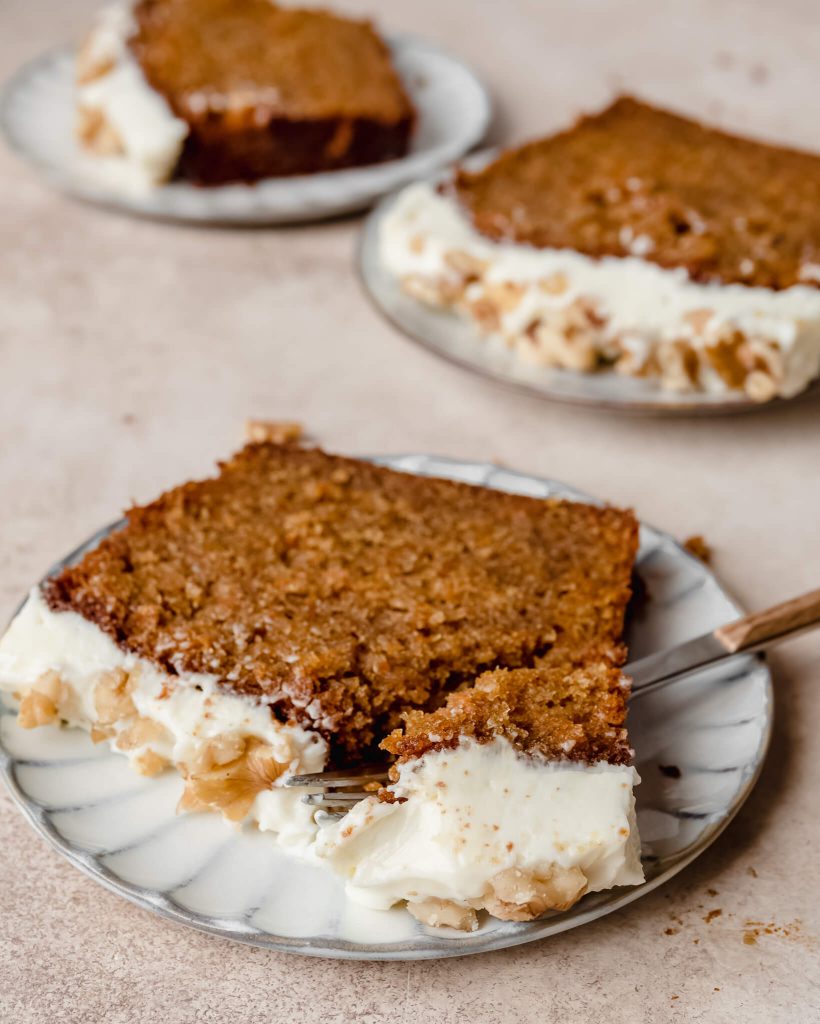 Frosting
No carrotcake is complete without frosting! I prefer cream cheese frosting over buttercream. Also a frosting doesn't have to be too sweet for me, that's why I 'only' use 250 grams of powedered sugar and some lemon juice. Some recipes use 500 grams of powdered sugar, that's too much for me but taste to see what your preference is!
Shapes
I used a regular cake tin for my carrotcake but you can use 2 round tins (about 20cm) and make a classic cake with frosting between the layers.
Carrotcake
Ingredients
4

eggs

150

grams

brown sugar

150

grams

white casterd sugar

250

ml

sunflour oil

250

grams

flour

2

teaspoon

baking powder

2

teaspoon

cinnamon

1/2

teaspoon

nutmeg

1/2

teaspoon

gingerpowder

1/4

teaspoon

salt

300

grams

carrots, grated
for the frosting
200

grams

cream cheese, room temperature

100

grams

full fat butter at room temperature

250

grams

powdered sugar

1

tablespoon

lemon juice

handful of walnuts, chopped
Instructions
Preheat the oven to 180 degrees celcius

Whisk the eggs with the 2 sugars until airy, add the oil and whisk until incorporated well.

Add the flour, baking powder, cinnamon, nutmeg, ginger and salt and mix well.

Lastly add in the carrots.

Grease a caketin or line with a baking sheet and pour in the batter.

Bake the cake for about 45 minutes until done. A wooden skewer needs to come out clean, that's when you know it's fully cooked.

Let the cake cool off completely before putting on the frosting.

For the frosting whisk the cream cheese, butter, powdered sugar and lemon juice well. In order to avoid lumps everything needs to be at room temperature. Put the frosting on the cake and divide some chopped walnuts on top.

Store in the fridge so the frosting remains firm.