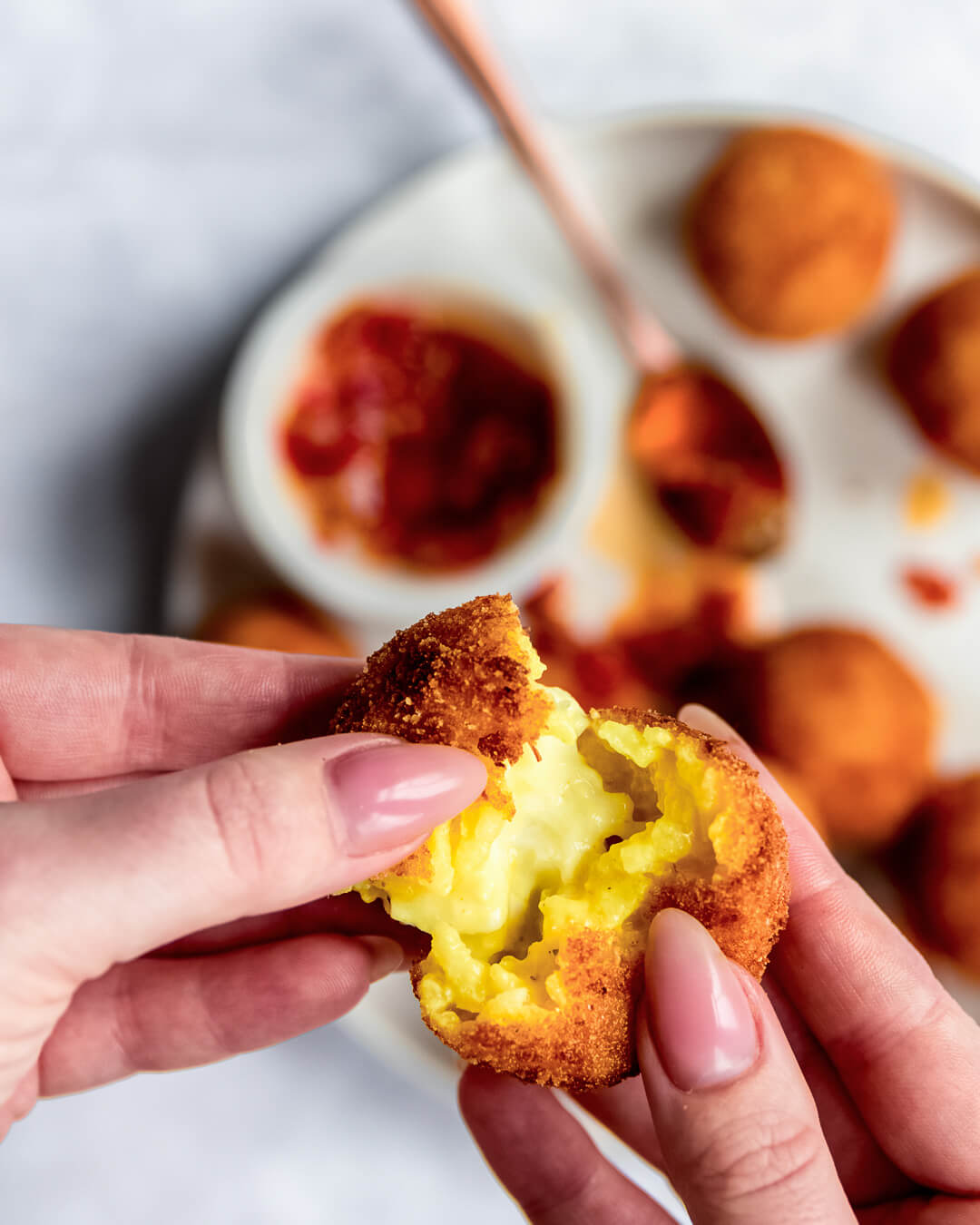 Arancini with saffron risotto
It's time for another challenge! This month it's arancini. That's fried risotto balls with a mozzarella centre.
Arancini
This is a typical Sicilian dish. In Rome you have something similar, supplí.
Risotto
You make this with risotto and preferably risotto a day or to old. The best part about that is that you have 2 meals for the effort of 1 basically.
Difficult?
Did I think this was a difficult dish to make? Not really. The hardest part is making the risotto. You want that to be just right and not too soft otherwise it'll fall apart during frying.
Chili oil
I served a great chili oil with these arancini. I bought thesechopped chili's and added some chopped garlic and olive oil. Great!
Arancini
Arancini with saffron risotto
Ingredients
For the risotto
150

grams

risotto

1

onion, diced

1/2

teaspoon

saffron

1

cube of chicken stock

1

liter

boiling water

2

tablespoon

creme fraiche

70

grams

parmesan cheese

pepper

bit of olive oil
Voor de arancini
1

ball

of mozzarella, diced

bowl of flour

bowl of panko

bowl with 1 egg beaten

sunflour oil for frying
Instructions
Heat up a bit of olive oil and sweat the onion. Add the risotto rice and stir until glossy.

Add the chicken stock cube and bit by bit boiling hot water, Keep stirring and when the risotto gets dry, add more water.

When the risotto has cooked, this takes about 20 minutes, add the creme fraiche and Parmesan. Make sure the risotto isn't very wet when adding this. When you pull a spoon through the risotto the rice must slowly come together. Add pepper for seasoning.

Let the risotto cool off, cover and let sit in the fridge for a day or 2.

Get a tablespoon of risotto and press flat. Put a cube of mozzarella in the center and fold the risotto around it. Form into a ball, this works better when your hands are moist.

Cover the ball with flour, than egg and finally the panko. Repeat with the rest.

Heat up a frying pan, place the arancini meanwhile in the freezer.

Fry the arancini until golden brown. Serve immediately.