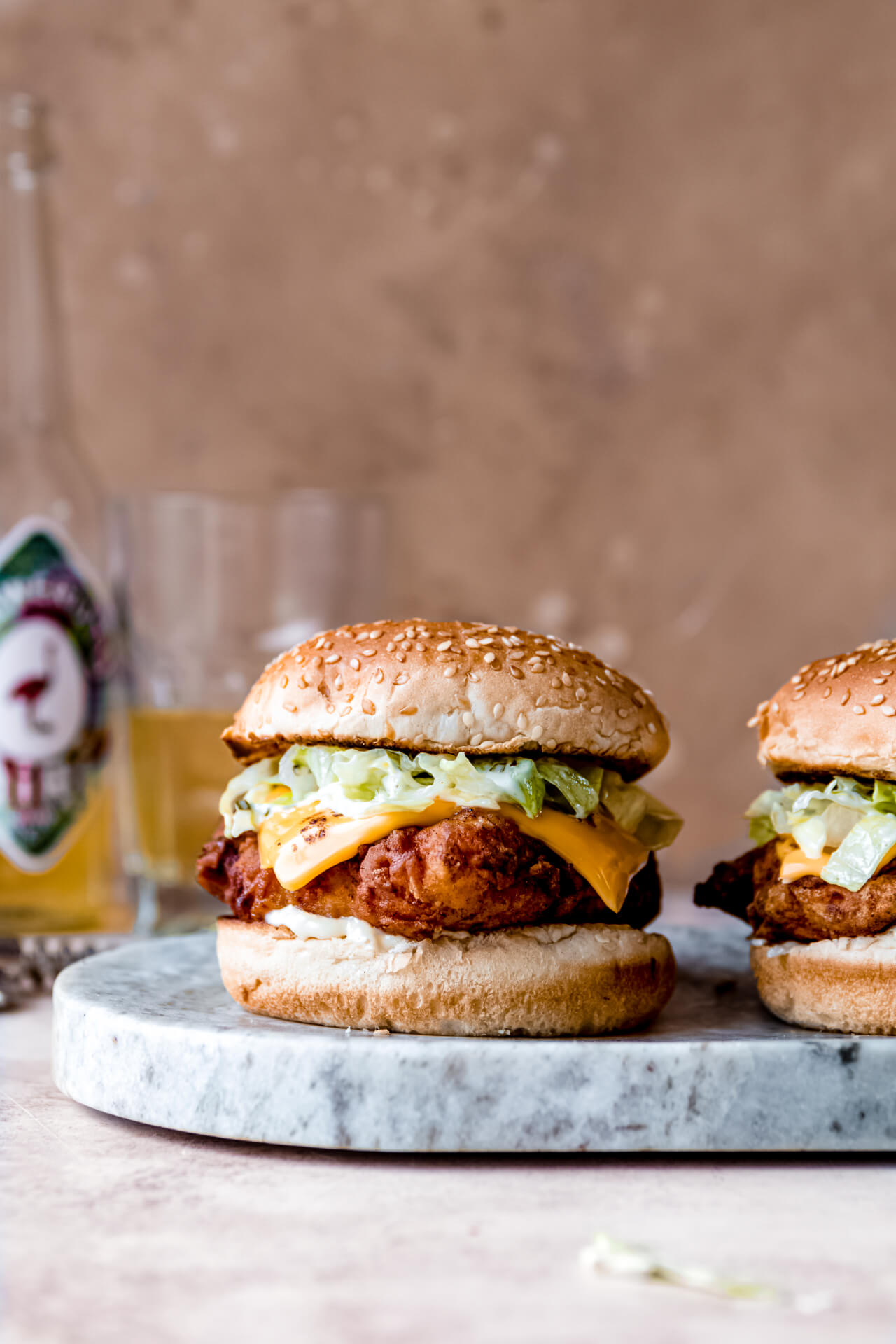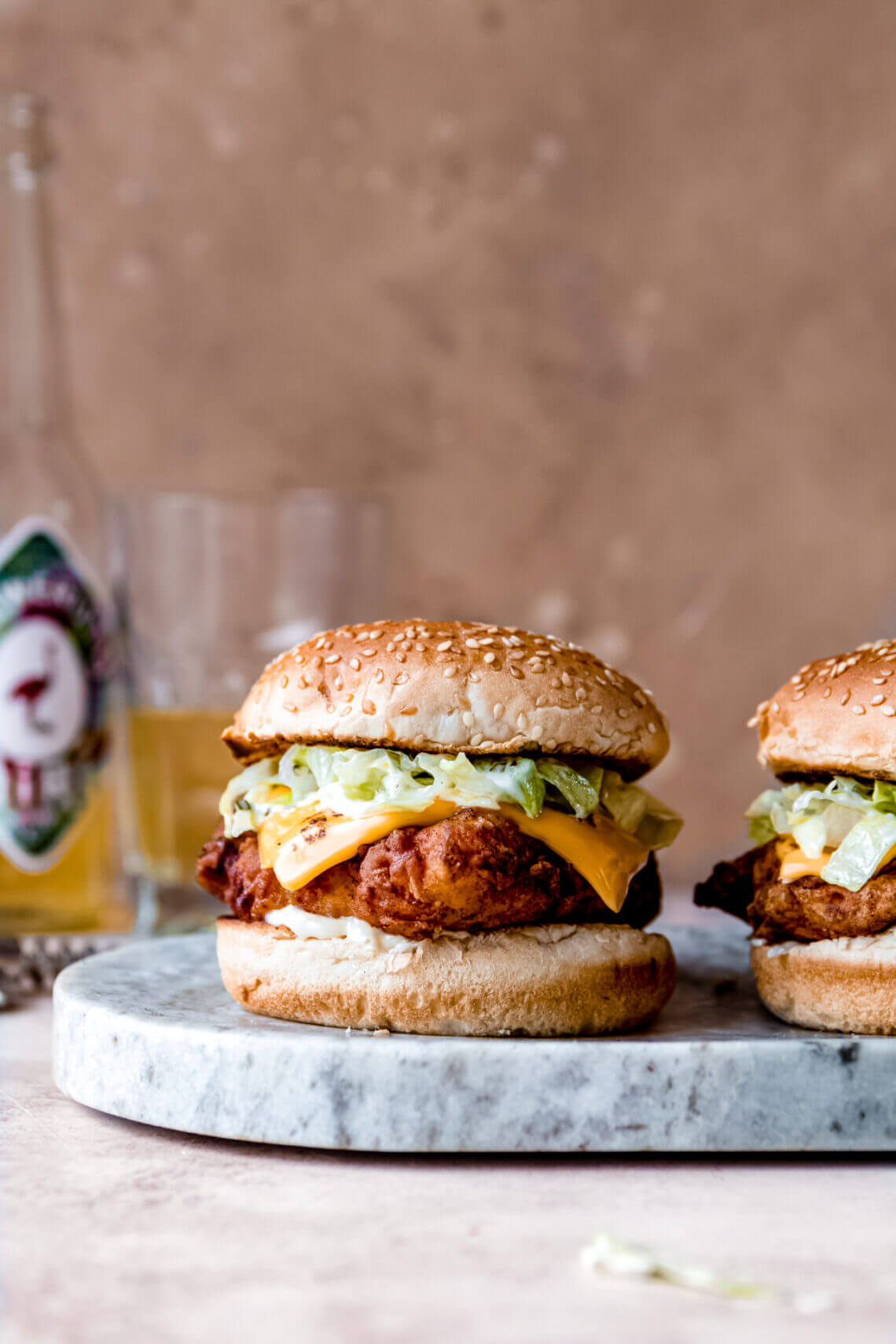 My hisband loves fried chicken and usually you'd use chicken thigh but i'm more of a breast person myself.
Chicken burger
You could bake the chicken in the oven but I prefer frying for optimal taste and crunch. First add some of your wet mix into the dry mix and shake. This way you'll get lumps of dry mix that will stock to your chicken and make it extra crispy.
The spicy part here is sriracha in the wet mix.
Frying
Don't have a fryer? No worries. Just get a pan with high sides and fill it up about half but no more than 2/3. Heat up until about 180 celcius or until it bubbles intensly when you add the chicken.
Brioche bun
I prefer to use a brioche bun for my burger. I sometimes get a supermarket bun when I don't have the time to make on myself. With this burgerI made my own brioche bun as well. It's just perfect for burgers because it's more sturdy and the sweetness in brioche is a nice counterpart of the spicy chicken. The recipe for the bruiche bun is in my cookbook Vers Deeg.
Spicy chicken burger
Ingredients
For the wet mix
150

ml

buttermilk

50

ml

sriracha

1

egg, raw
for the dry mix
100

grams

flour

1

teaspoon

garlic powder

1

teaspoon

onion powder

1

teaspoon

paprika powder

1

teaspoon

cayenne

1

teaspoon

salt
For the sauce
5

tablespoon

mayonaise

2

tablespoon

lemon juice

2

cloves

garlic, chopped

1

tablespoon

chives, chopped

pepper and salt
further
2

chicken breasts

50

grams

iceberg lettuce, cut in strips

2

pickles, cut in slices

4

cheddar slices

extra sriracha

4

burger buns

sunflour oil for frying
Instructions
Flatten the chicken and cut in half so you'll have 4 even oieves of chicken.

In one bowl mix all the ingredients for the wet mix, in another mix all the ingredients for the dry mix. Drop some of the wet mix into the dry make and shake. This will create lumps wich will make your chicken more crispy.

First cover the chicken with the dry mix, then the wet mix and the dry mix again. Transfer on a baking sheet and let this rest in the fridge for 30 minutes.

Heat up the sunflour oil to around 180 celcius.

In the meantime make the sauce by mixing the mayo, lemon juice, garlix and chives. Season with salt and pepper.

Wash the lettuce, add 1 tablespoon of the sauce and mix. Cut the buns open and bake the cut sides in a dry pan until goldenbrown.

Fry the chicken 5 to 10 minutes until goldenbrown and cooked. Transfer onto kitchenpaper so the excess oil can drip off. Immediately cover with a slice of cheddar.

Put some sauce on the bun, followed by the chicken with cheese, add some extra sriracha, the the lettuce and pickles. Serve immediately.