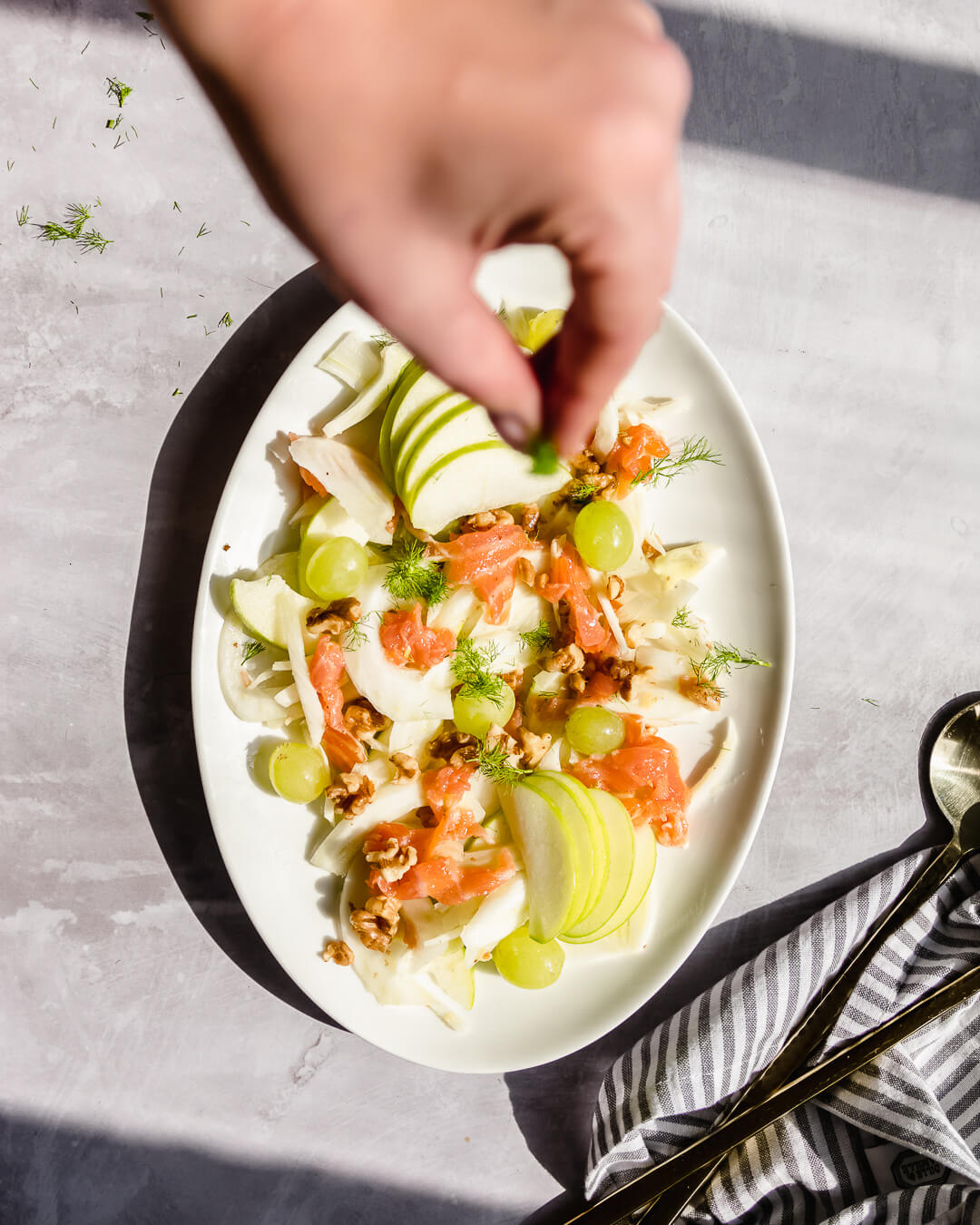 Fennel salad with salmon, apple, grapes and walnuts
Spoiler alert. The title is basically the recipe, haha.
Fennel salad
We had this the other day when we went out for the night. This was a starter and I was amazed by how simple it was yet so tasty.
I had to make it myself. It took me a couple of weeks but here we are.
So, I never prepared fennel myself. I thought the salad had dill but apparently fennel has little sprigs on top. Save that, it has an awesome flavour.
Dressing
The dressing is so simple. Just olive oil and lemon juice and whisked until a bit thicker. The acidity in the lemon will cook the salmon, like in a ceviche.
Fennel salad with salmon, apple, grapes and walnuts
Fennel salad with salmon, apple, grapes and walnuts
Ingredients
1

whole fennel

1

green

apple

handfull

grapes

3

tablespoon

olive oil

1

tablespoon

lemon juice

100

grams

smoked salmon

handfull

walnuts

pepper
Instructions
Mix in a bowl the olive oil and lemon juice intul a bit thicker.

Cut the top off the fennel, save the green sprigs. Cut the fennel in half en thinly slice. Add to the bowl with the dressing.

Slice tha salmon and the apple and add to the bowl. Throw in some grapes and season with pepper.

Serve on a big plate, sprinkle some chopped walnuts on top and garnish with those green sprigs (they have an intense fennel flavour, a bit like anise.)