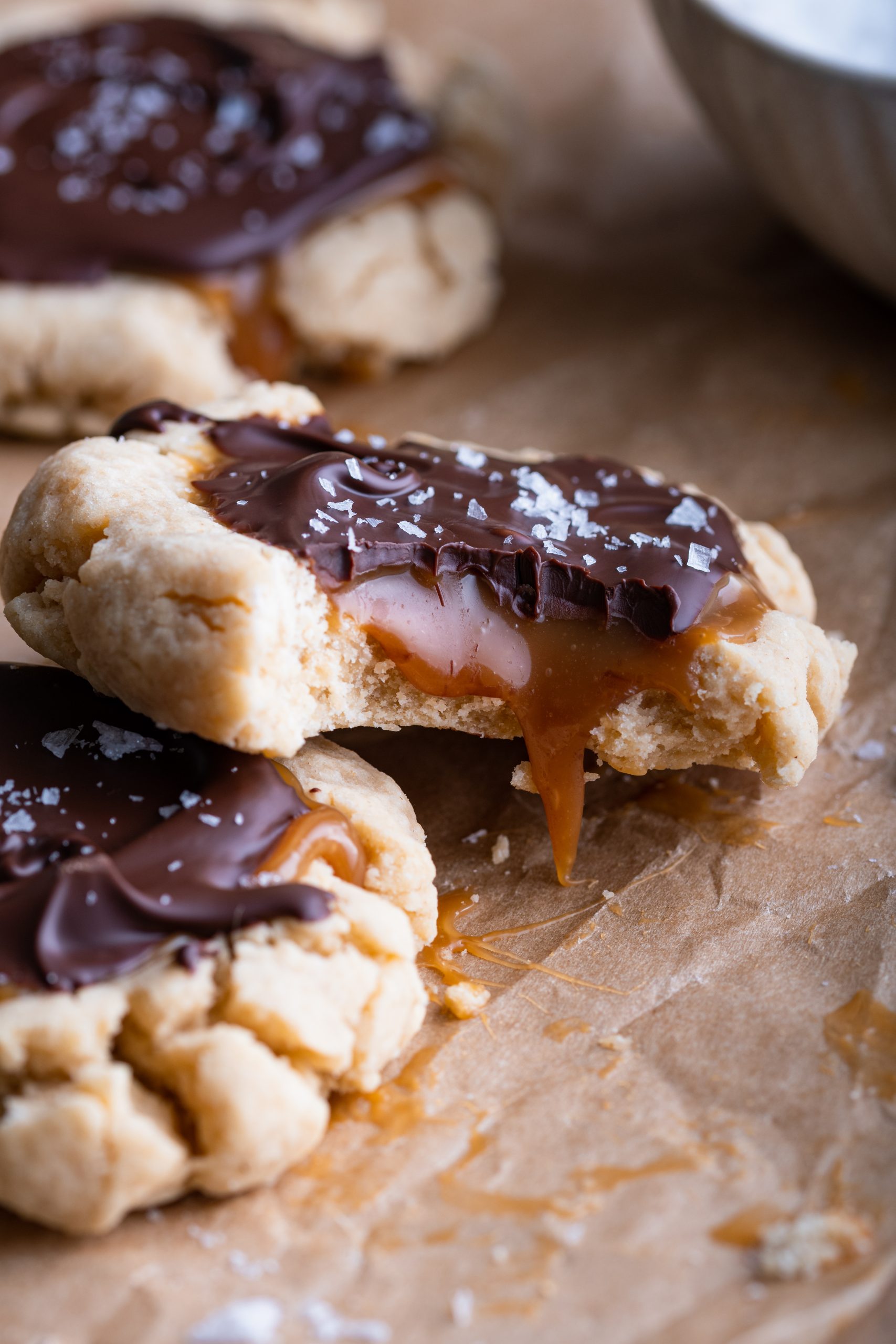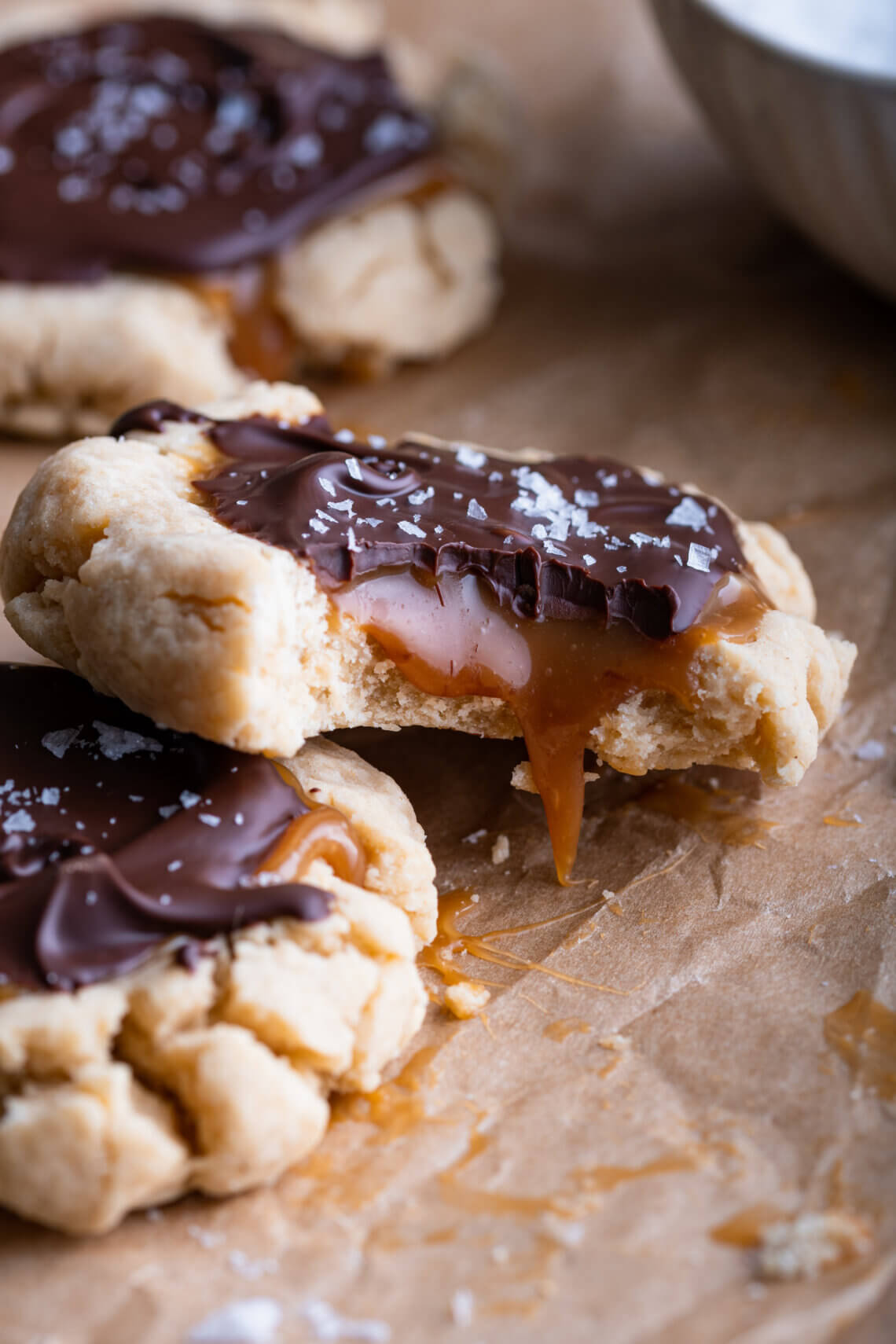 Twix cookies; sugar cookies with caramel and chocolate
I love a twix bar so I decided to make a cookie version. It's a couple of steps but it's not a difficult recipe to make.
Twix cookies
The base is a sugar cookie. The dough is rather crumbly but it must hold its shape and form a ball when you squeeze some together. Then you flatten the ball and use a whisky or shotglass ti make a further indentation on the middle. Fill this indentation with caramel and after that has set, you can put some melted chocolate on top.
Caramel
I cheated a bit for the caramel and used Werthers soft caramel sweets.I used this same 'technique'for my caramelitas recipe in my cookbook Zoet Deeg. I just love the flavour and it's super easy because you don't have to make a caramel with melted sugar.
Chocolate
Get a chocolate of 79% or less. Any higher and it's more likely the fats will seperate and you won't have a glossy melted chocolate. I add some butter to my chocolate so it doesn't completely set when cooled off. I prefer this texture for this cookie over the hard set chocolate.
Twix cookies
Ingredients
For the cookies
100

grams

full fat butter at room temperature

100

grams

sugar

1

1 egg, room temperature

3

grams

vanilla extract

1

grams

salt

300

grams

flour

40

grams

cornstarch

5

grams

baking powder
For the caramel
1

bag

werthers soft caramel (a 150 gram)

40

grams

heavy cream
For the chocolate
150

grams

dark chocolate

30

grams

unsalted butter

Optional: flaky seasalt
Instructions
Preheat the oven to 180 degrees celcius.

Remove the Wethers sweets from the package and add, together with the heavy cream, in a saucepan. Heat on low heat until melted, stir often. Remove from heat and let it cool off.

Mix the butter and sugar until creamy, best is to use the paddle attachment. Add the egg and mix well.

Add the vanilla, salt, flour, cornstarch and baking powder and mix until just combined. It's a crumbly dough but it's important you can form a ball. Add a tablespoon of water if the dough is too dry (I didn't need to).

Make 10 balls of around 50 grams. Place on a baking sheet with baking baker. Flatten with your hand and use a whisky of shot flass to make a further indentation.

Bake for 10 minutes, they're still soft when they come out of the oven, and let them cool off completely.

Divide the caramel in the indentations of the cookies.

Melt the chocolate and butter au bain marie (in a bowl on top of a pan with a small layer of water). Let the chocolate cool off for about 15 minutes so the chocolate sets a little.

Divide some chocolate on top of the caramel and (optionally) garnish with flaku seasalt.

You can store the cookies for 2 to 3 days in an airtight container in room temp of 3 to 4 days in the fridge. If you keep them in the fridge, let them come to roomtemp before serving.
Deze foto's heb ik gemaakt met flitslampen. Wil jij je ook verdiepen in flitslampen en/of sowieso meer weten van foodfotografie? Neem dan een kijken bij mijn Foodie fotografie cursus!