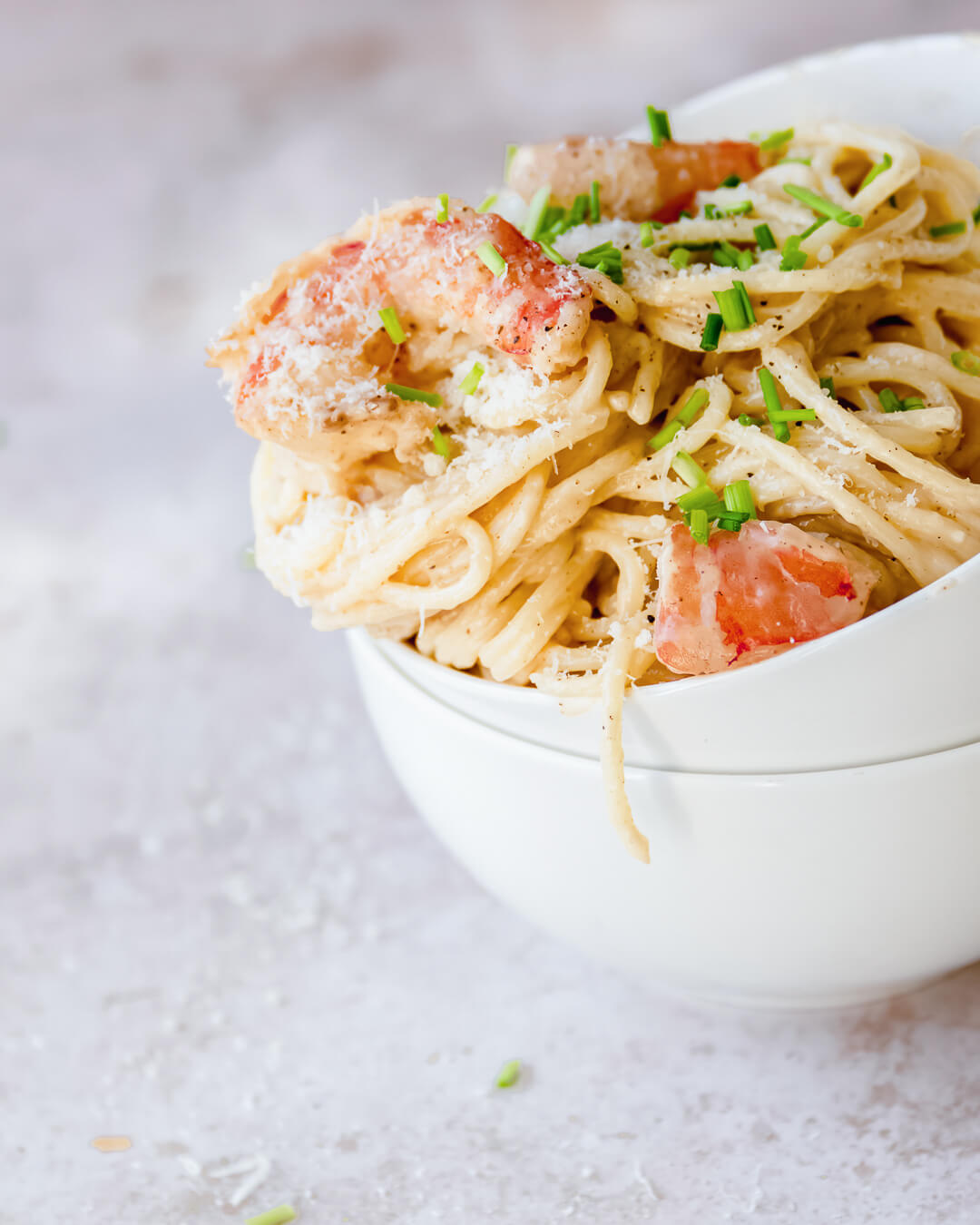 Spaghetti in a shrimp bisque creamy sauce
I have multiple recipes of spaghetti with shrimp in a creamy sauce on my website but this is really very different, so it warrented it's own recipe.
Bisque
The difference here is that we cook the cream with the shells of the shrimop and this creates so much flavour. First you bake the shrimp, then peel them, put the shells back in the pan and let this simmer in the cream for a while.
Variations
The best part is that you can vary bu using crab or lobster. All shellfish work.
Spaghetti in a shrimp bisque creamy sauce
Spaghetti in a shrimp bisque creamy sauce
Ingredients
150

grams

spaghetti

10

Shrimp (not peeled but it is fine if the head's removed)

1

onion, diced

1

clove

garlic, chopped

100

ml

heavy cream

40

grams

parmesan cheese

some pasta water if needed

pepper and salt

chives

knob of butter
Instructions
Heat op a bit of butter in a frying pan and bake the shrimp until cooked. Remove from the heat and when the shrimp have cooled off, peel.

Heat up another bit of butter in the same pan. Add the onion and shrimp shells and stir until the onions are glossy. Add the garlic, stir until fragrant, then add the cream. Season with pepper and salt and let this simmer for 20 minutes. Stir occasionally.

Bring a pot of salted water to a boil and cook the spaghetti al dente.

When the spaghetti is almost done, strain the cream. Press out the shrimp shells so get all the moisture.

Put the cream back in the pan, gut the shrimp in pieces (optional, you can leave them whole), add the parmesan, stir, then add the spaghetti.

Taste to check is the spaghetti is cooked well. I always like to cook the last bit in the sauce. If the sauce is too dry, add a bit of pasta water. Serve with extra parmesan (optional) and chives.