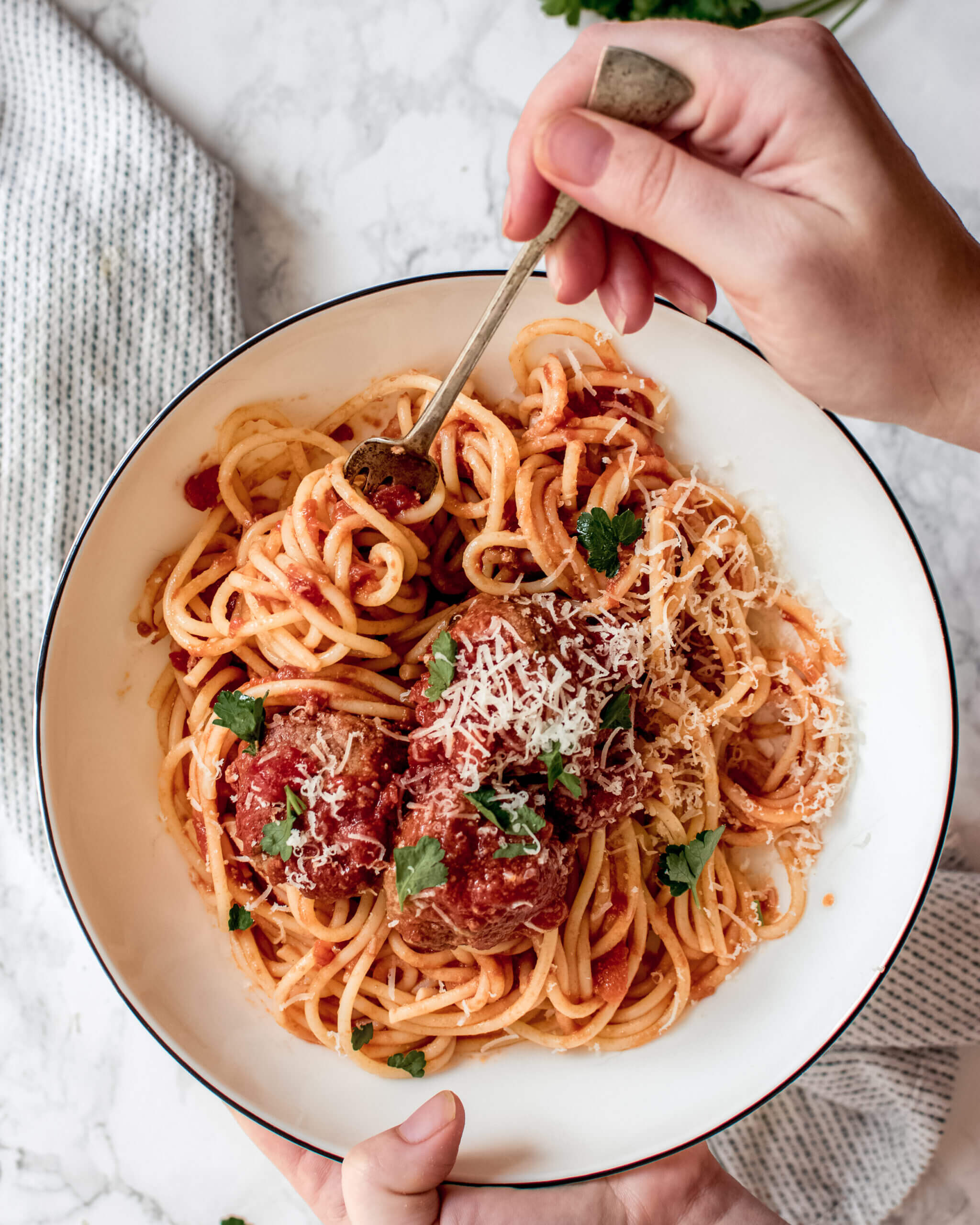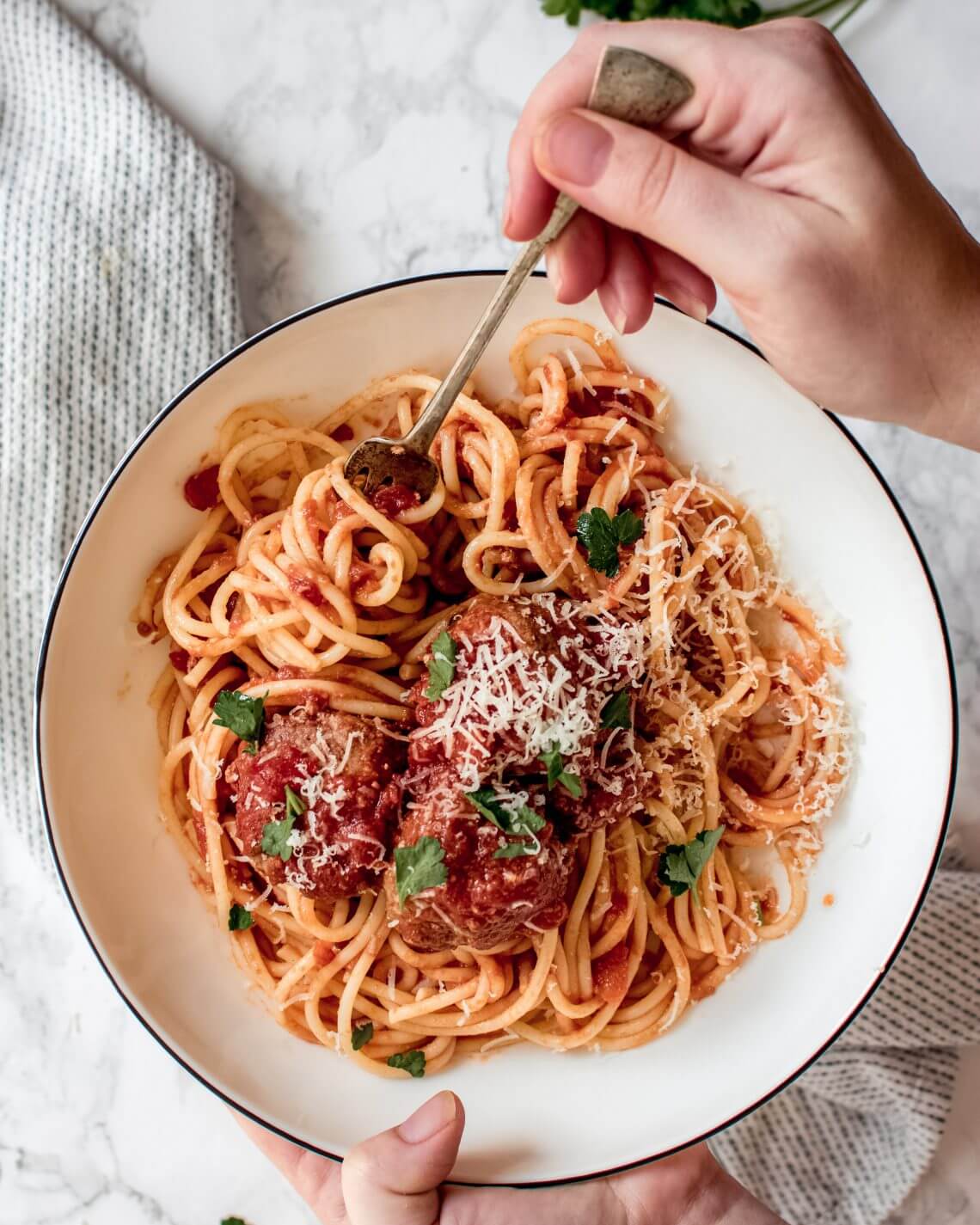 My mother used to make spaghetti with ground beef mixed up with the sauce. I don't know why but I always find that less appetizing than meatballs. Structure of food is a big part of why I loved it I guess.
Meatballs
I think the spaghetti meatballs is a typical American thing. I've never seen it in Italy. Because you make the meatballs the usual way with panko and egg they're very moist and so good.
Sauce
I don't like it if there's too much sauce with my spaghetti. I want it to stick and not fall down so there's a type of soup on the bottom of my plate. I have a special trick so I always have the right thickness of sauce.
The trick for perfect spaghetti
I boil my spaghetti until right before al dente and then add it to my sauce. I cook it until done in my sauce. This way the sauce kind of penetrates the spaghetti which makes for an awesome flavour. Don't do this with a cheesy or cream based sauce, these types dry up too quickly.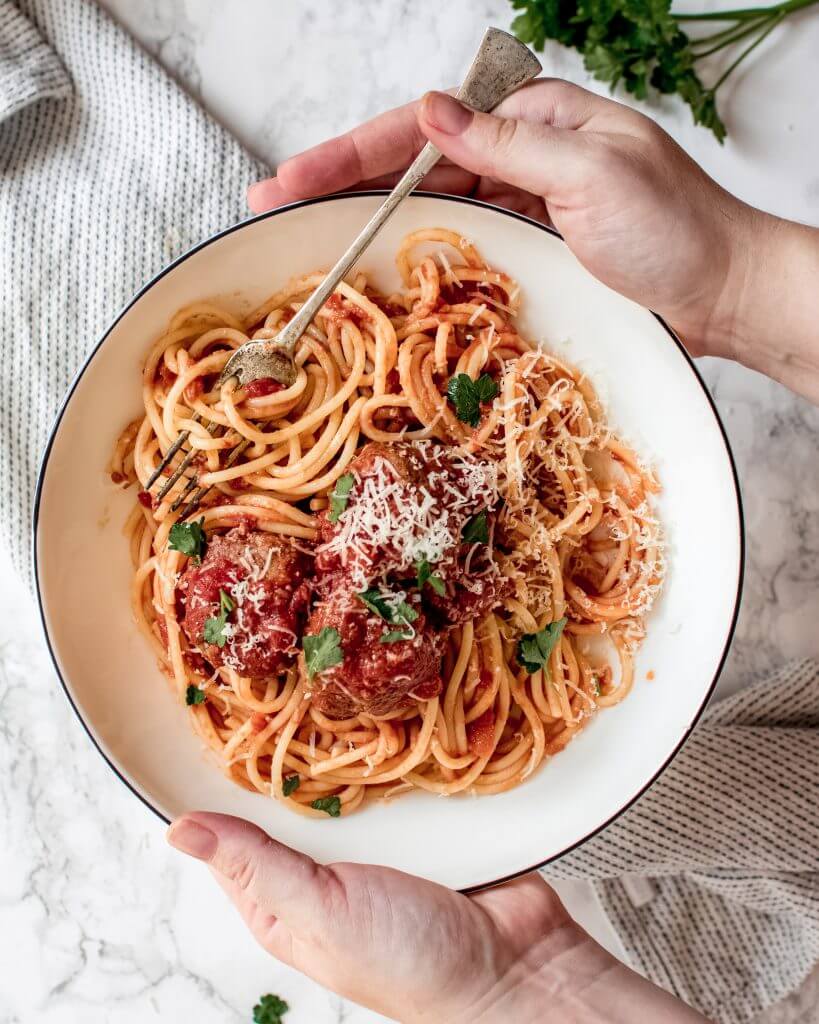 Spaghetti with meatballs
Ingredients
300

grams

spaghetti

500

grams

ground beef

500

grams

passata, tomato sauce

1

egg, raw

50

grams

panko

2

tablespoons

oregano

1/2

beef bouillon cube

2

cloves

garlic, diced

pepper and salt

parmesan cheese

fresh basil
Instructions
Season the ground beef
with peper and salt and add 1/2 tablespoon of oregano
(the other half we'll put in the sauce)
, add the panko and egg and mix until well incorporated. Roll them into medium balls. Heat up a big pan
and fry your meatballs until brown.



Add to your meatballs the garlic, tomato sauce, other oregano and the 1/2 bouillon cube.
passata, de overige oregano, je halve bouillonblokje en een snuf kaneel.
No need to add more salt.
Stir until mixed and let simmer
for at least
half an hour.
The sauce will thicken up and be very flavorful.



After about 15 minutes bring an pot of water to a boil.
Season your water with salt until it resembles seawater
and boil until just not al dente.



Add the spaghetti to the sauce and let simmer
until your spaghetti is cooked.
The sauce will penetrate
your spaghetti



Serve your spaghetti with Parmesan cheese and fresh basil.