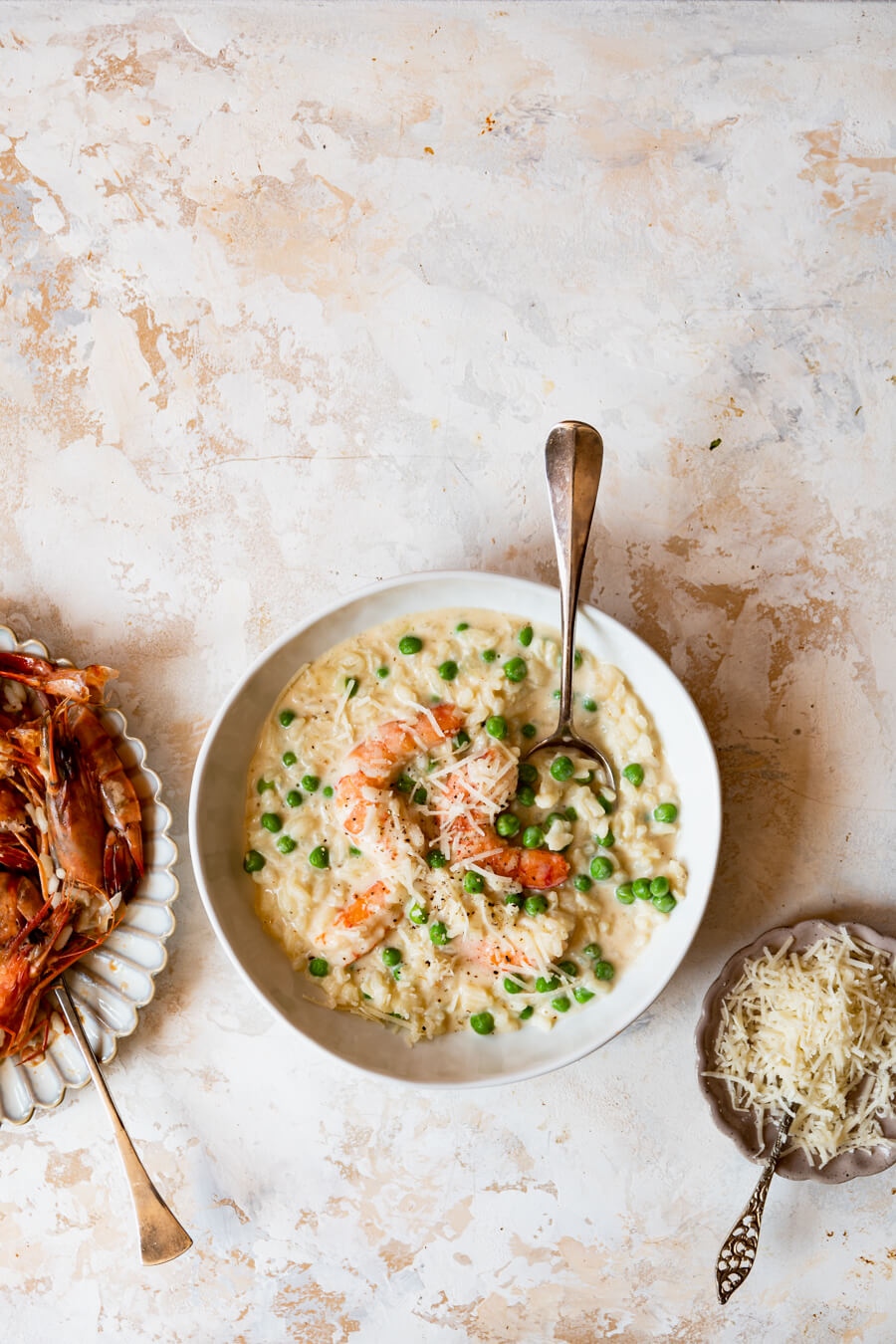 Summery risotto with prawns and peas
This risotto is great for summer. It's lighter because of the mascarpone and fresh because of the lemon juice.
Risotto
You need a rice grain with a lot of starch. The starch will release during cooking and take in all of that moisture. The easiest type of rice to get is the arborio. You can get this in every supermarket.
If you have some leftover risotto, make some arancini, it's fried risotto balls with a mozzarella center and it's so good!
Shrimp
I always use raw shrimp or prawn (what's the difference anyway?). I defrost them, pat them dry very well and bake them in some sunflour oil. We'll use the heads for extra flavour while cooking the rice.
Summery risotto with prawns and peas
Summery risotto with prawns and peas
Ingredients
Voor de garnalen
10

prawns, with heads, defrosted and patted dry.

a bit of sunflour oil
For the risotto
1

tablespoon

olive oil

1

onion, finely chopped

150

grams

arborio rijst

1

liter

chicken stock, boiling hot

100

grams

peas, frozen

60

grams

mascarpone

75

grams

parmesan cheese

juice of 1/2 a lemon

pepper and salt
Instructions
Heat up the sunflour oil and bake the prawns until very deep pink and cooked. Remove from the pan, let them cool off a bit. Peal them, put aside the shrimp and put aside the heads.

Heat up the olive oil and sweat the onions. Add the rice and bake for a minute until glossy. Add the heads and add bit by bit some stock. Keep stirring and once all the moisture has been taken up by the rice add more. It takes about 20 minutes for the rice to cook, depending on how high your heat is. Taste often, you want a rice that still has a bite but is not hard on the inside. It is possible that you have some stock left or that you need to add some more (you can use boiling hot water for that)

Remove the heads and add the peas and shrimp. Then add the mascarpone, parmesan and lemon juice and stir until the cheese has melted. I prefer a more wet risotto so optionally add some stock. Taste and season with salt and pepper.

Serve immediately, optionally with some extra parmesan