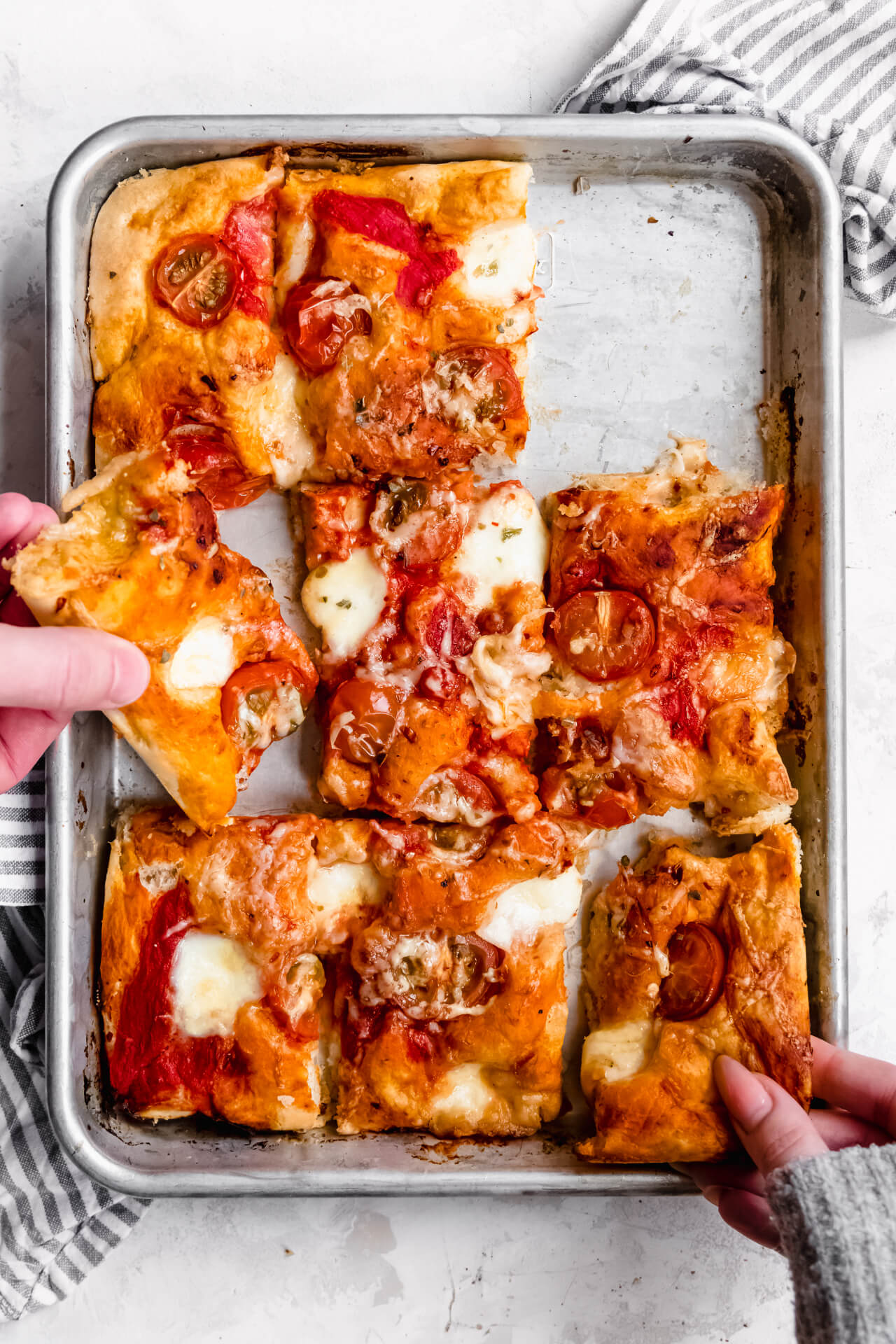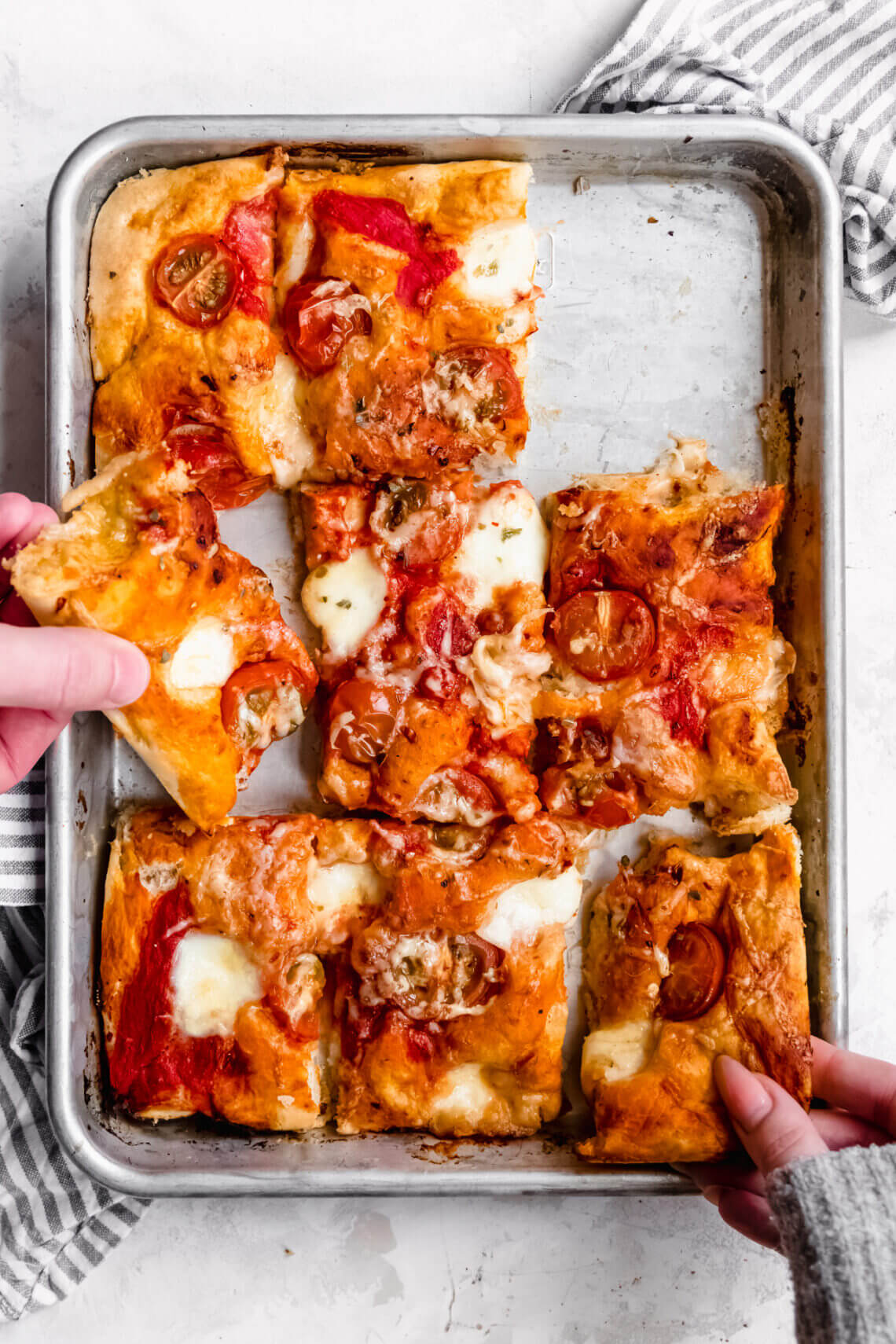 This sheet pizza is a mix between a focaccia and a pizza. I amended my standard focaccia recipe to make a more soft and pillowy dough. Also, the tomato sauce makes for a more moist dough.
Sheet pizza
You could choose any kind of toppings but I chose for the classic of tomato and mozzarella. I wanted to add fresh basil but discovered I forgot to get it so I added dry basil.
Next time I'll make a sheetpizza with the toppings of this 4-cheese pizza.
Dough
The dough is easy to make, especially if you have a kitchenaid with doughhook. Knead the dough until it passes the windowpane test (stretch it out until alost transparent. This needs to be achieved without the doudg tearing).
I let the dough rise 2 times. First time in the mixing bowl until visibly rissen (about an hour), the second time in a baking sheet until you see airbubbels (about another hour).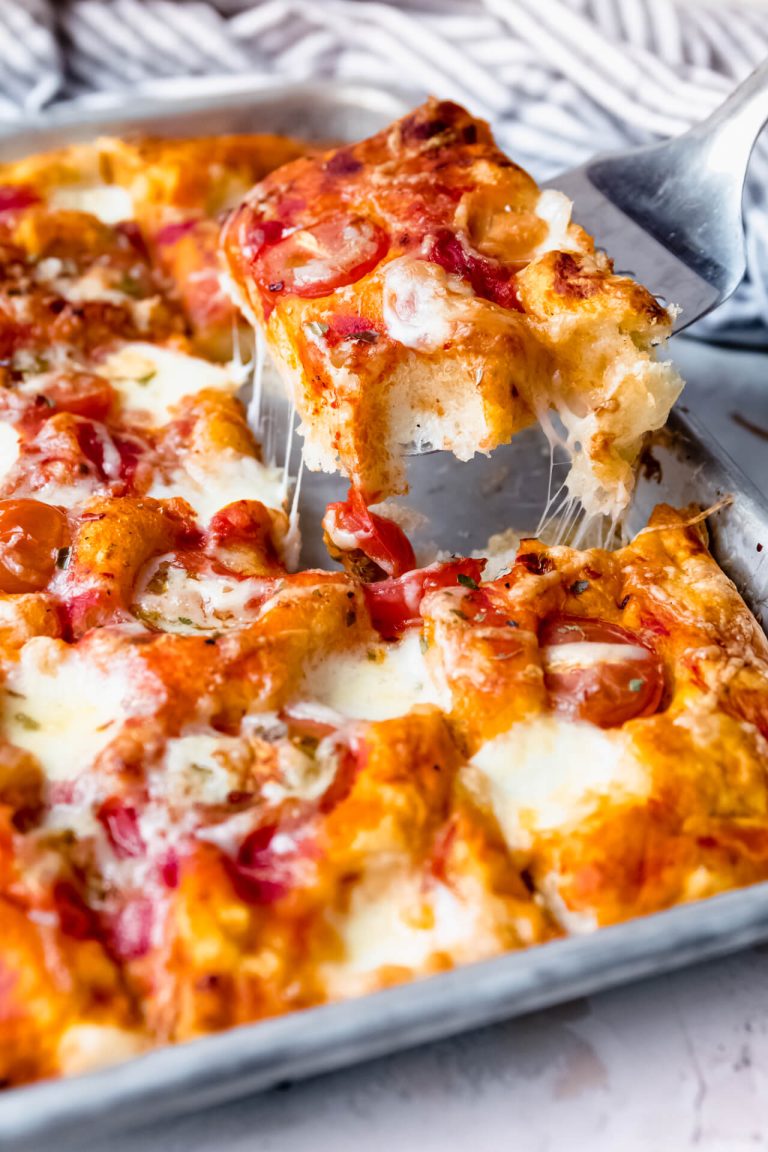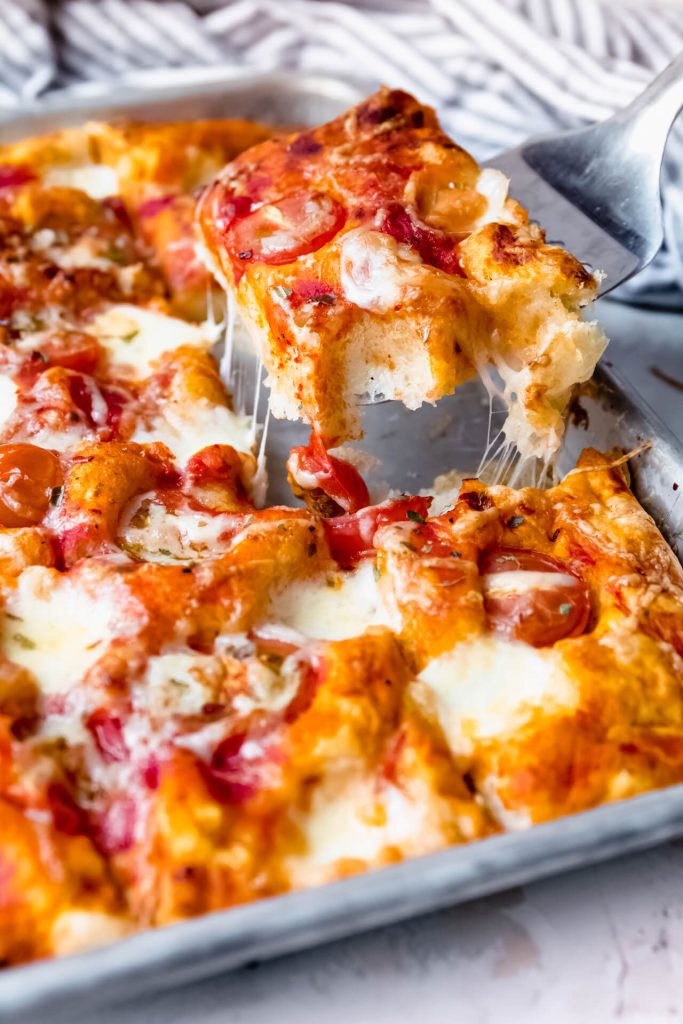 sheetpizza
Necessities
Baking tray of about 25 by 33 cm
Ingredients
for the dough
250

grams

type 00 flour

160

grams

water, lukewarm

4

grams

dry yeast

20

grams

olive oil

5

grams

salt
further
1/2

bik

diced tomato

handfull

cherry tomato, halved

50

grams

grated mature cheese

ball

a ball of mozzarella, sliced

1

teaspoon

oregano

pepper and salt

fresh basil, chopped

extra olive oil for greasing the baking tray
Instructions
Mix the water with the olive oil and yeast and stir. Let sit for a couple of minutes until foamy.

Add to the flour and knead until it comes together, Then add the salt and knead until it's a supple dough as mentioned above. Cover and let it sit in a warm place until visibly rissen (about an hour).

Grease the baking tray and transfer the dough. Stretch the sides until pretty much the entire baking tray is covered. Cover with a clean damp towel and let it sit in a warm place for about an hour, until airbubbels are visible.

Preheat the oven to 180 degrees celcius

Mix the tomato cubes with oregano and season with salt and pepper.

Grease your fingers and press dimples in the dough. Divide the tomato sauce on top, add the grated cheese and then add the cherry tomato and mozzarella.

Bake in the oven until the dough has cooked, about 25 to 30 minutes.

Garnish with fresh basil and serve immediately.