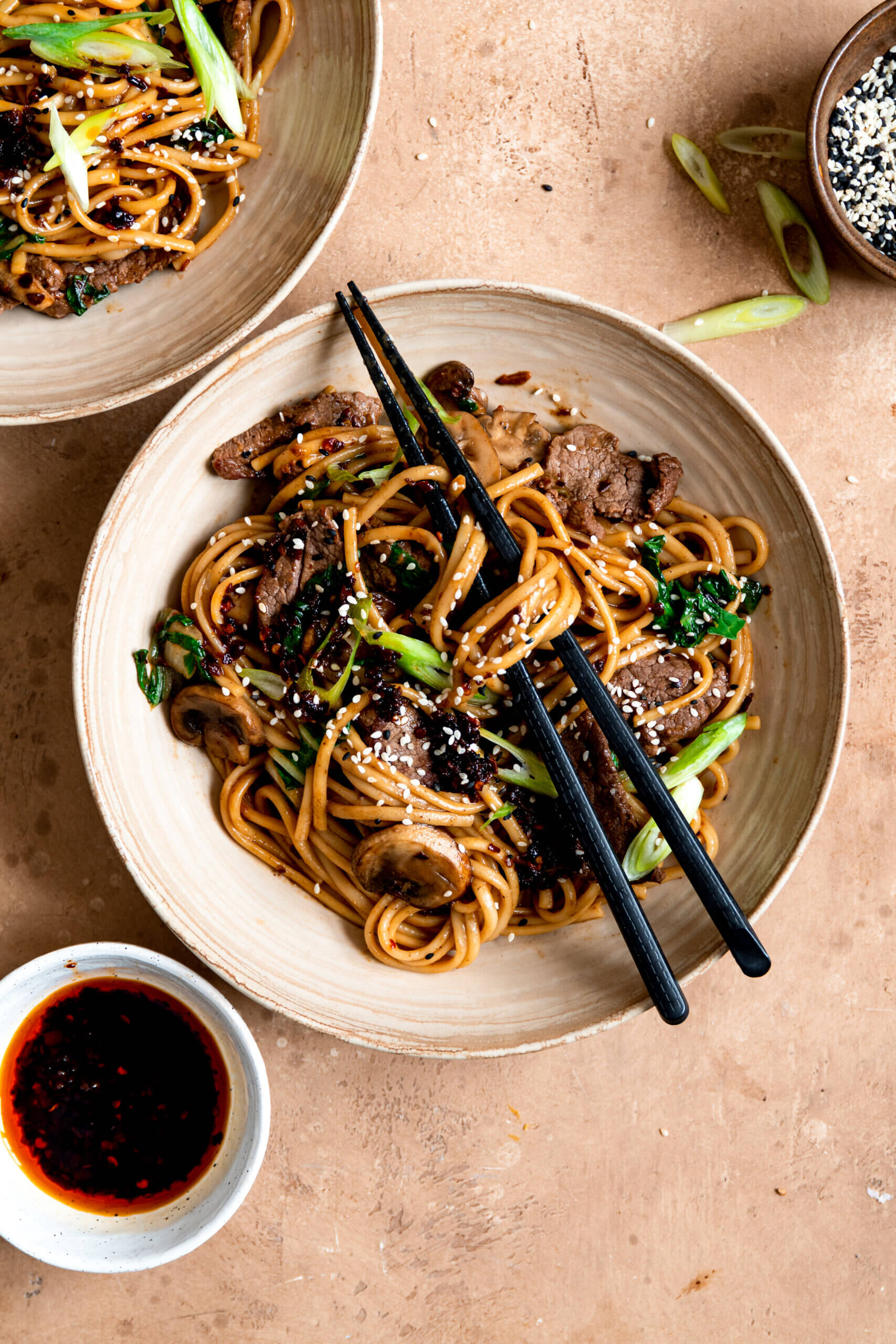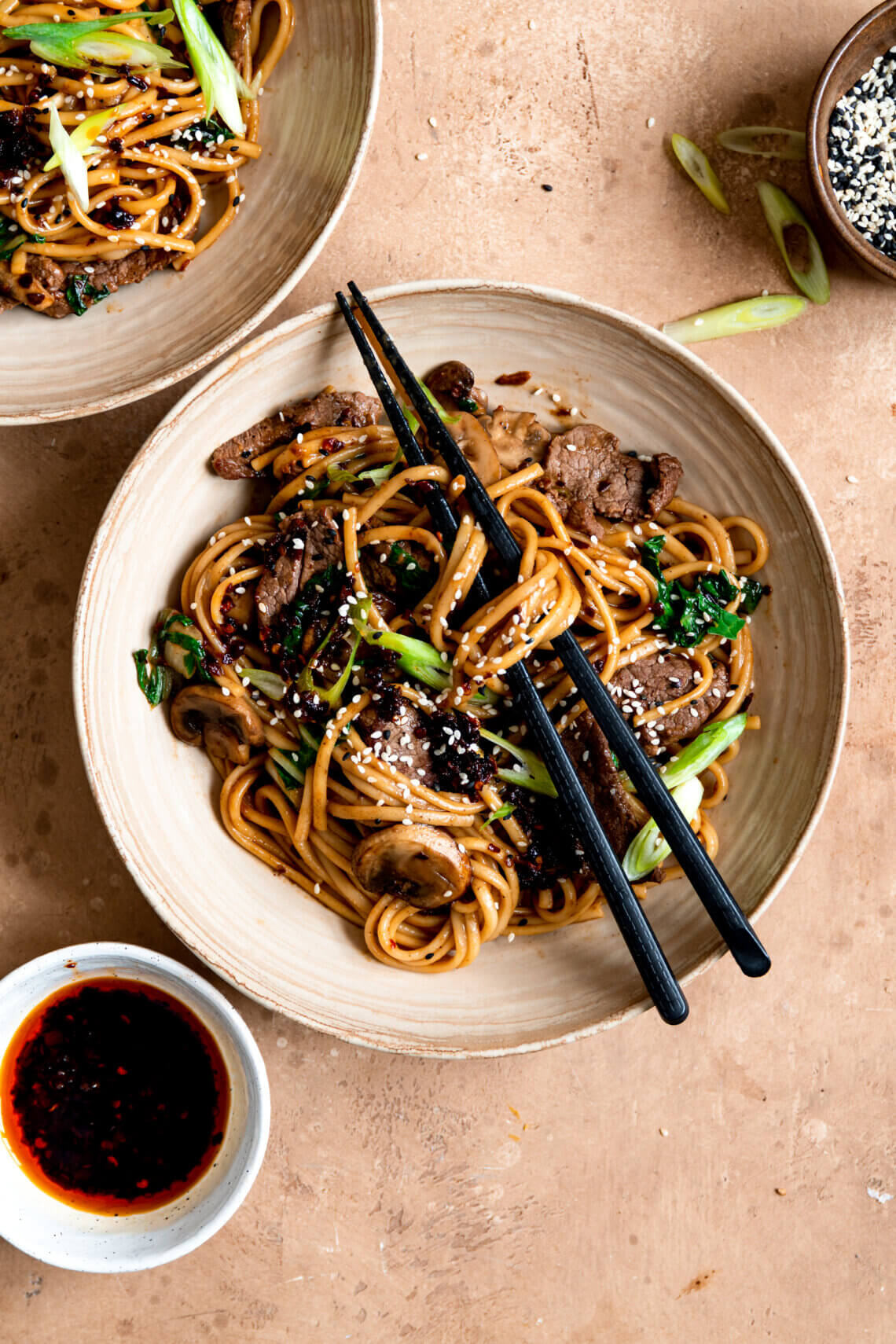 Noodles met biefstuk en roerbakgroenten
Soms heb je behoefte aan een snel en simpel gerecht met lekker veel groenten. Dan moet je echt deze noodles met roerbakgroenten en biefstuk eens maken.
Biefstuk
Wanneer je graag een gezonde maaltijd voorschotelt is biefstuk een goede optie. Rundvlees is namelijk rijk aan vitamine B12, ijzer en zink. Verder is dit mager vlees en bevat dus minder calorieën. Zelf let ik helemaal niet op calorieën en vind ik biefstuk af en toe gewoon heel erg lekker.
Waar ik een hekel aan heb is taai vlees, dus ik kies voor kwaliteit. Daarom heb ik dit recept gemaakt in samenwerking met Bord Bia, de Ierse foodboard die de kwaliteit van Iers rundvlees wil waarborgen.
Lowcarb
Mocht je koolhydraatarm eten, dan kun je makkelijk de noodles weglaten. Er zit al behoorlijk wat groenten in en je zou dit zelfs nog kunnen uitbreiden met bijvoorbeeld broccoli.
Sauce
Zelf vind ik 1 eetlepel chili olie perfect qua pittigheid, maar je kunt het ook minder pittig maken door er minder bij te doen. Wil je pittiger, voeg dan (sechuan) peper toe. De pindakaas lijkt misschien een beetje raar, maar het voegt heel veel romigheid toe aan het gerecht.
Noodles met roerbakgroenten en biefstuk
Noodles met roerbakgroenten en biefstuk
Ingredients
a bit of sunflour oil

2

kogelbiefstukken van Iers rundvlees, in reepjes gesneden

250

grams

mushrooms, cut in slices

1

pak choi, fijngesneden

150

grams

udon noodles

2

tablespoon

Soy sauce

1

tablespoon

sweet soy sauce

1

tablespoon

chili oil

1

teaspoon

peanutbutter

pepper and salt

sesame seeds

bosui, in dunne ringen gesneden
Instructions
Kook de noodles zoals op de verpakking staat aangegeven.

Verhit wat zonnebloemolie in een pan , breng de biefstuk op smaak met peper en zout en roerbak kort aan in de pan. Haal uit de pan en zet opzij.

Wok de champignons tot bruin. Voeg de pak choi toe en roerbak mee tot dit is geslonken.

Maak intussen de saus door de sojasaus, ketjap, chili olie en pindakaas te mengen.

Voeg de noodles, de biefstuk en de saus toe aan de pan en meng goed totdat alles heet is.

Verdeel over 2 borden en garneer met sesamzaadjes en bosui. Dien direct op.