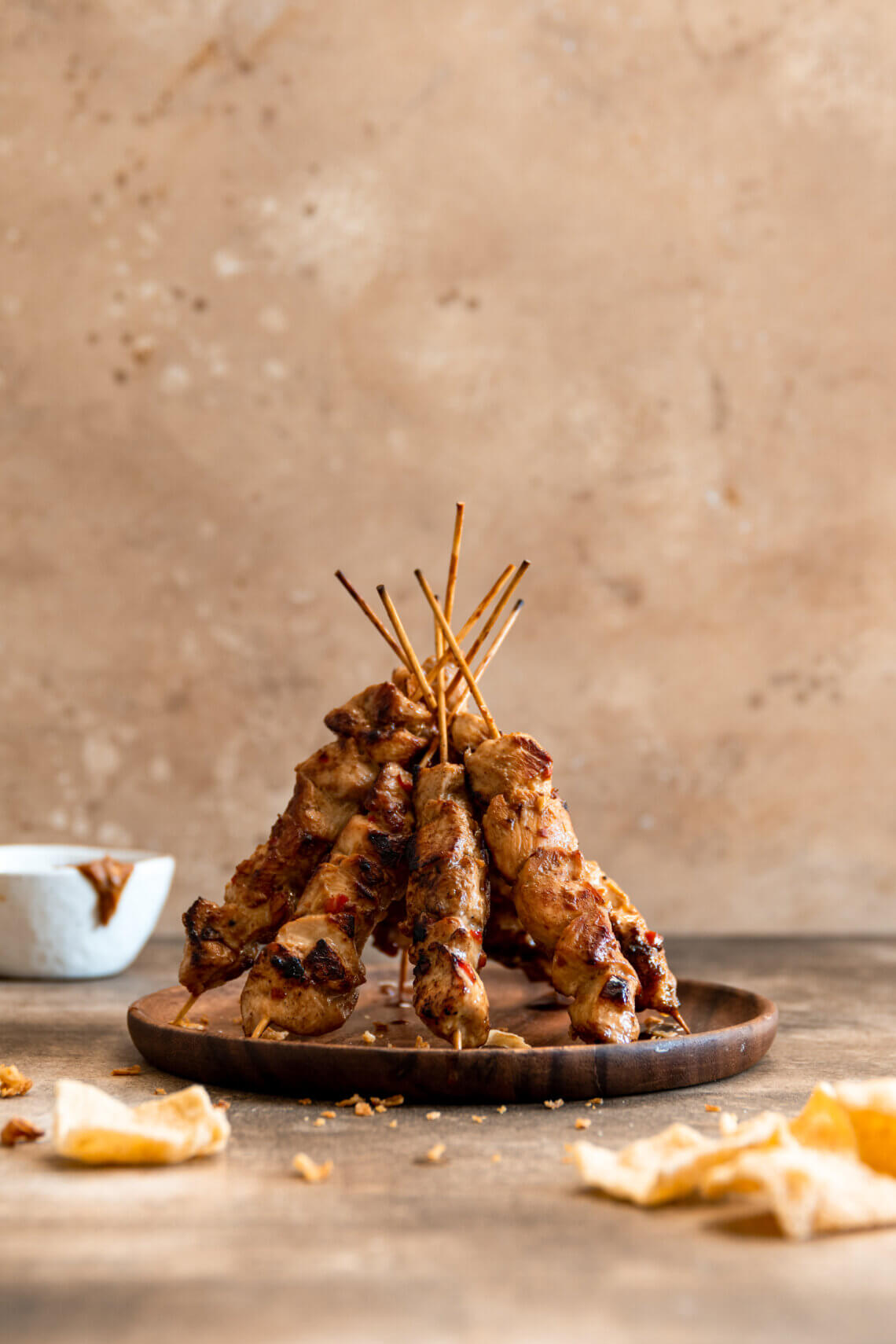 Het allerlekkerst vind ik sate gambing, van geit, maar geit is niet altijd even makkelijk te vinden dus dan maak ik voor het gemak maar gewoon met kip.
Saté
This is a popular dish in Indonesia and therefore very popular in The Netherlands. An original saté is a skewer with 3 pieces of meat.
Satésauce
I really like my saté with saté sauce, you can find the recipe here . Usually saté is served with white rice but I'm really like it with some baguette as well.
Ketjap saus
Stiekem gaat mijn voorkeur uit naar de ketjap saus. Ik maak een simpel sausje van 3 el ketjap manis, 3 el donkere sojasaus, 1/2 sjalot heel fijngesneden, 1/2 rode peper heel fijn gesneden, 1 teen knoflook heel fijn gehakt. Je kunt ook beide sauzen maken, dan eerst dippen in de pindasaus en daarna in de ketjap saus.
Chicken saté
Ingredients
500

grams

chicken breast, cut in cubes

4

cloves

garlic, chopped

1/2

teaspoon

coriander powder

2

tablespoon

sambal badjak

some

ketjap manis (sweet ketjap)

1

tablespoon

ketjap pedis (salty ketjap)

sunflower oil
Instructions
Meng de kipblokjes met de 2 soorten ketjap, de knoflook en de sambal en korianderpoeder. Laat dit een uurtje marineren.

Skewer the chicken, heat up some sunflower oil and bake the chicken until cooked.