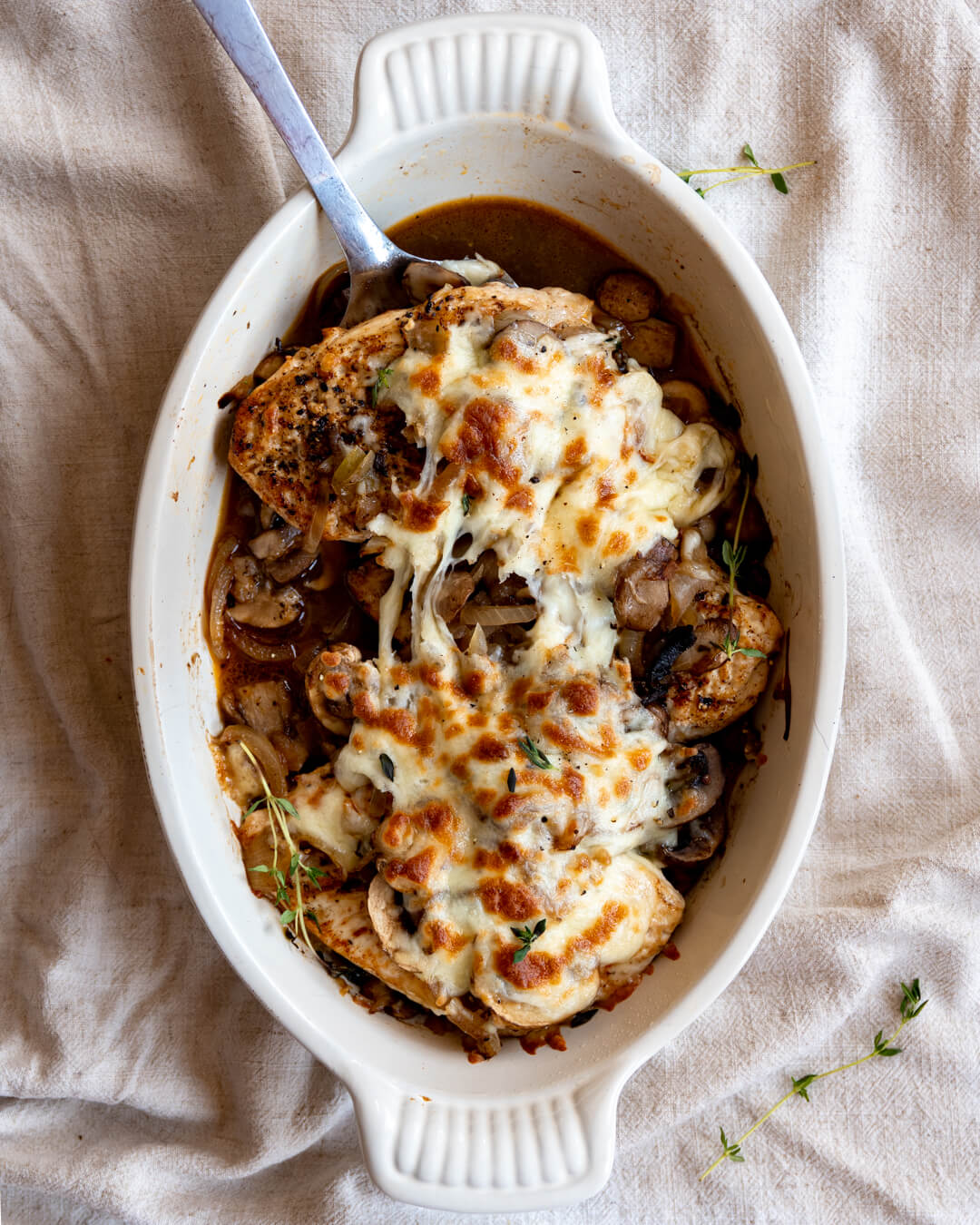 Chicken with mushrooms and onions from the oven.
I love chicken out of the oven, although I must admit this title may be a bit misleading because I only put it in the oven to let the cheese get melty. I prefer to bake my chicken in a pan first so you get that nice sear and the leftover bits in the pan I use to bake my onion and mushrooms in.
Chicken from the oven
I have another recipe, chicken out of the oven, look here,but this is with creamcheese. If you're watching your calorie intake this might be a better option for you.
Mushrooms and onion
It's a classic combination. I would normally bake the mushrooms until all moisture has evaporated. I won't do this here because the moisiture will make for an awesome gravy. Delicious to serve with rice, cauliflower puree, potato puree of some bread with an herb butter.
Lowcarb
I used to eat lowcarb but I just love carbs so I couldn't do it for very long. I now eat lowcarb for dinner most of the time.
This meal is perfect for that. Like I said, you could serve this with a cauliflower puree or just a green salad. It really depends on how hungry I am, I can also eat this just as is.
Simple
The best part about this is it's so simple to make and it's really quick as well. I make 4 fillets so we could eat this for 2 days. Even reheated it's still very good.
Chickenbreast
I always prefer chickenbreast over thigh. It's just a perosnal preference, but you can use thigh as well if you'd like. I only use thigh when I'll fry my chicken, like in this recipe.When you fry thigh you fry off all the fatty bits I don't like.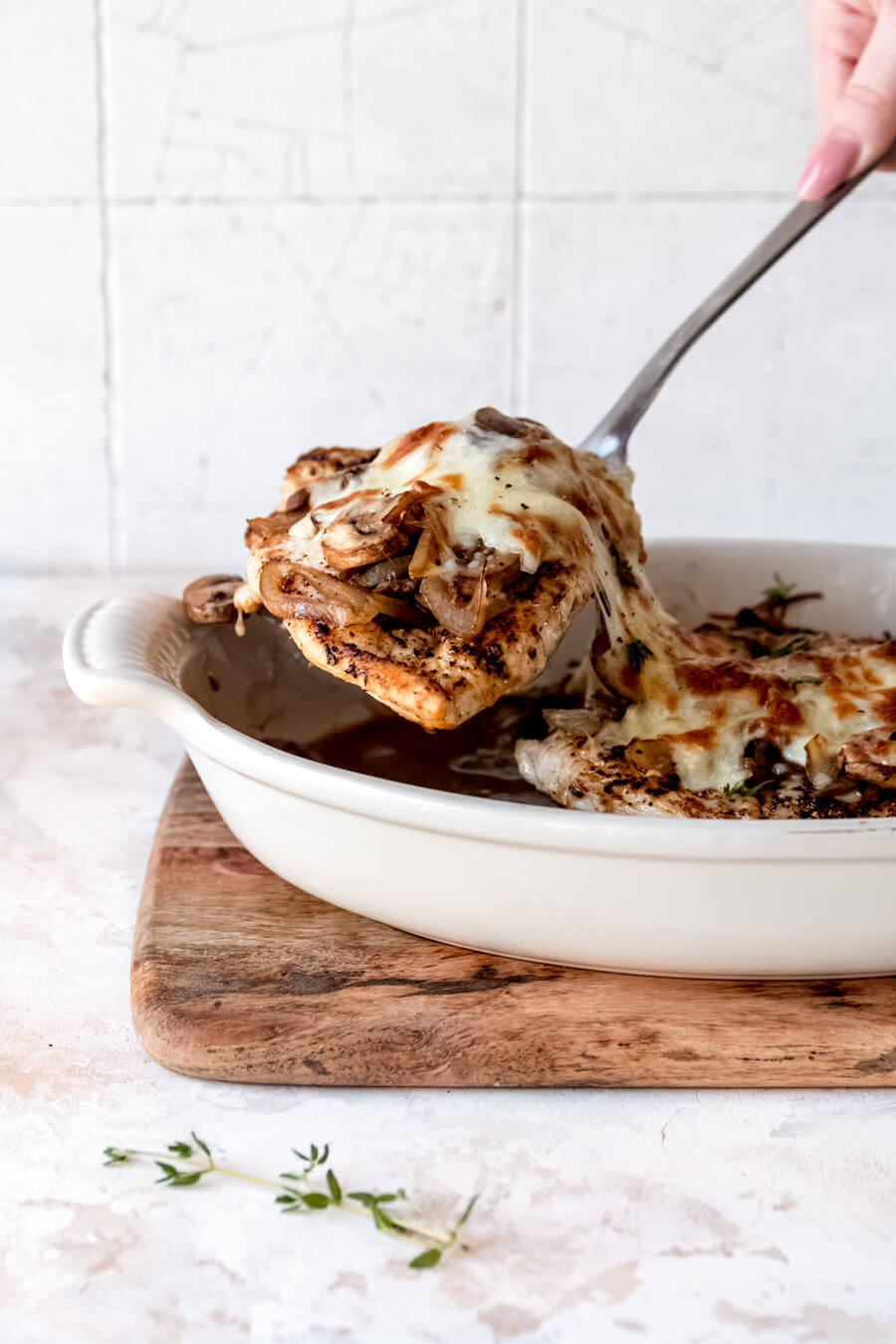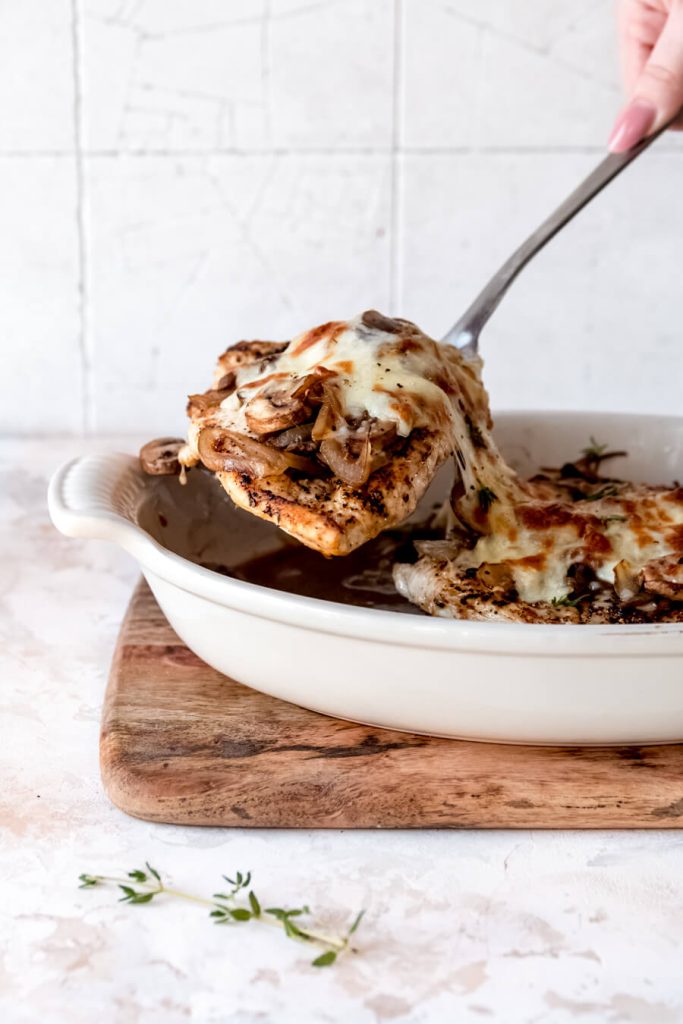 Chicken with mushrooms and onions from the oven.
Chicken with mushrooms and onions from the oven.
Ingredients
4

chicken breasts

2

knobs of butter

500

grams

mushrooms, cut in slices

150

grams

onions, sliced thinly in half rings

3

cloves

garlic, chopped

paprika powder

peper, zout

75

grams

grated cheese, flavour of choice

2

sprigs of

thyme
Instructions
Preheat the oven to 180 degrees celcius.

Beat down the chicken until everything is about 1 cm thick. Season with paprika powder, salt and pepper. Heat up a knob of butter and bake the chicken until brown and cooked. Set aside.

In the same pan heat up another knob of butter and bake garlic, mushroom and onion for around 10 minutes or until brown and soft. Season with salt and pepper. Taste well, because the juices will make for the gravy and you don't want a bland gravy.

Divide half of the veggied in a ovendish, place the chicken on top and divide the other half over the chicken.

Divide the cheese on top and put in the oven for 10 to 15 minutes or until the cheese has melted.

Garnish with fresh thyme and serve immediately.