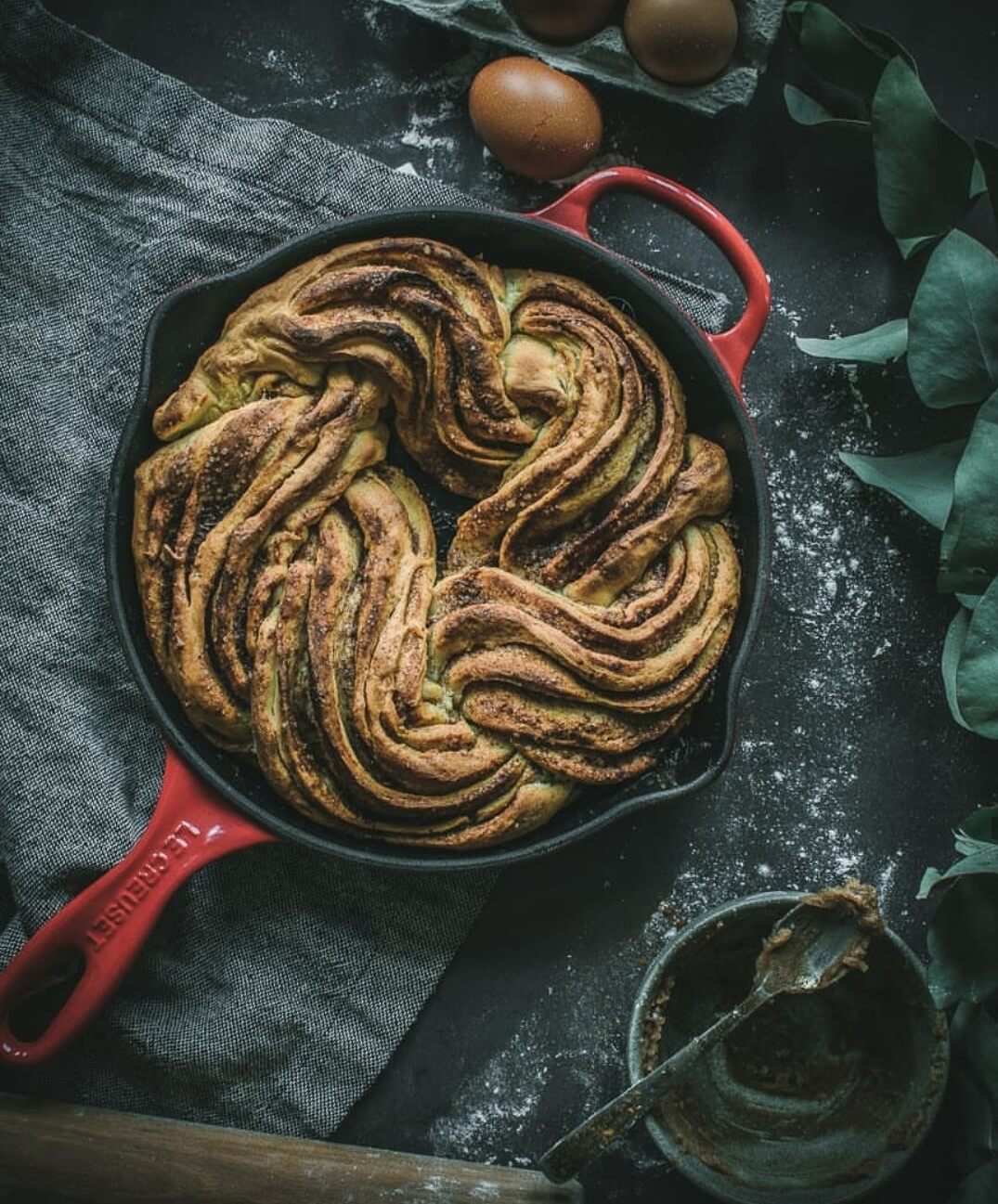 Is there a lovelier smell than the baking of fresh cinnamon bread? I think not!
Cinnamon bread
When you make your own dough this takes a little longer, but still.. you'll be done in about 2 hours. You can always use store croissant dough. I will never use that for actual croissants, but you can make fine cinnamon bread with it.
Frosting
I've grown to love frosting. Why not go all out when making these, right?
Cinnamon bread with frosting
Cinnamon bread with frosting
Ingredients
for the dough
300

grams

flour

180

ml

milk, lukewarm

7

grams

yeast

1

tablespoon

sugar

pinch

salt

30

grams

melted butter

1

egg yolk
for the filling
100

grams

butter, roomtemperature

50

grams

sugar

2

tablespoon

cinnamon
for the frosting
150

grams

powdered sugar

200

grams

cream cheese, roomtemperature

1

teaspoon

vanilla essence

milk to thin out the frosting if wanted
Instructions
Mix the lukewarm milk with the yeast, sugar, eggyolk en melted butter.

In another bowl mix the flour and salt. Add your wet mixture and knead until you have a smooth dough.

Grease a bowl, put your dough in, cover and let rise for about an hour.

Preheat the oven to 200 degrees celcius.

Mix the butter with the sugar and cinnamon. The butter needs to be soft so you can mix well.

Roll out the dough into a rectangle. Cover completely with you butter/sugar/cinnamon mixture.

Roll up your dough in to a log. Than cut through the length of the log, you can now see all the nice layeres. Twist the two strands around eachother, like a two strand braid, and either attach the end or fold double and put in a cake tin. You can also just cut slices so you'll get a classic cinnabun.

Je kan ook plakjes van de sigaar snijden om zo meer kleine cinnabuns te maken.

Bake in the oven for about 20 minutes for a cinnabun and 30 minutes when baking in a cake tin. (the douch is thicker here so it needs longer to bake)

For the frosting mix all the ingredients together. You can add some milk if you want a thinner frosting like mine. Pour over you cinnamon bread and serve immediately.