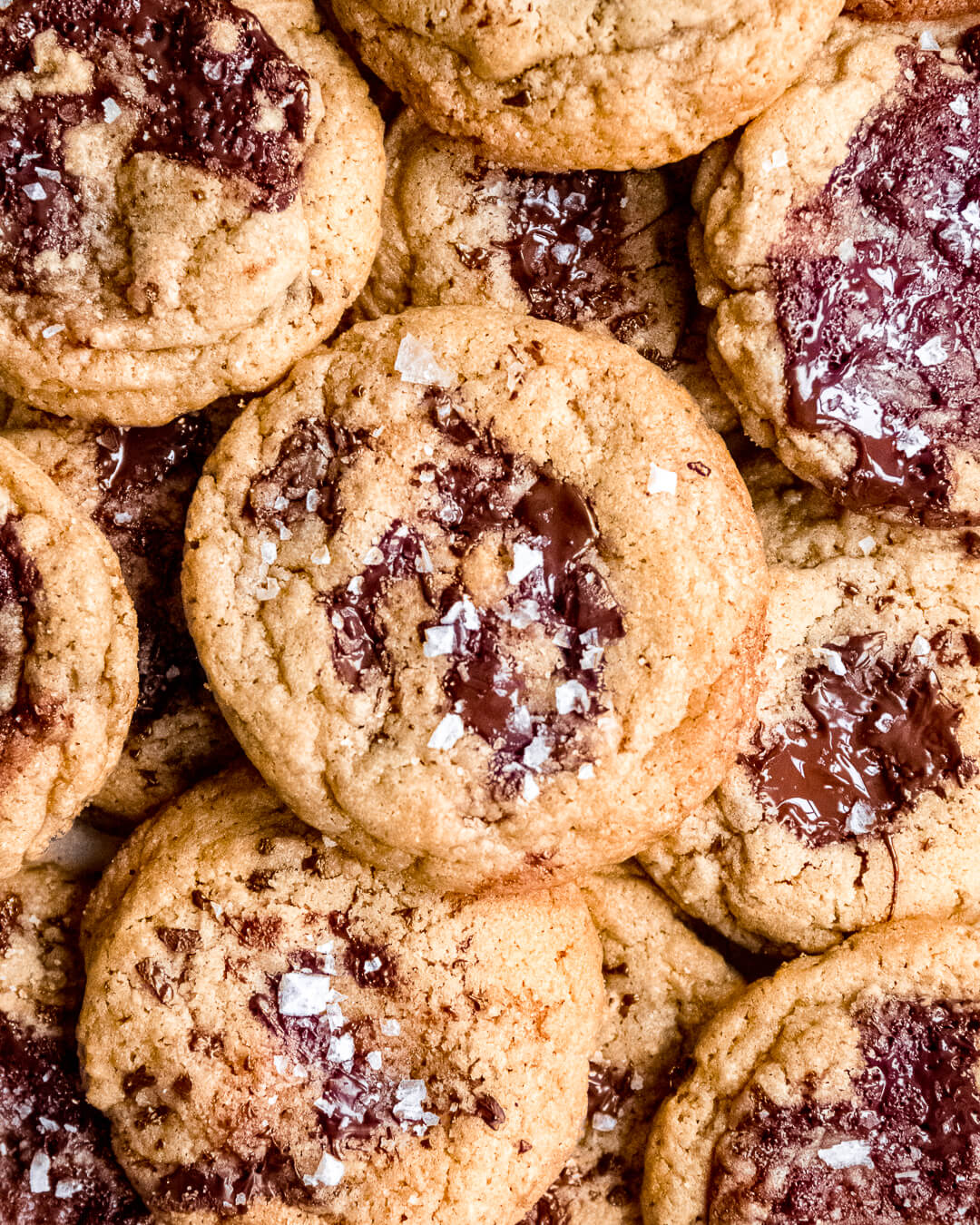 I know these chocolate chip cookies are very populair in the U.S. Here in the Netherlands they are less common.
You could buy them in the supermarket but they are just crunchy and hard and not chewy at all.
Chocolate chip
I use two types of chocolate. The chips that don't melt in the oven and regular dark chocolate. I mix the dough with the chips and add the dark chocolate on top. This way you have puddles of gooey chocolate.
chocolate chip cookies
chocolate chip cookies met zeezout
Ingredients
225

grams

Unsalted butter

200

grams

brown sugar

100

grams

white sugar

2

eggs

180

grams

selfraising flour

180

grams

flour

1

teaspoon

cornstarch

3/4

teaspoon

baking powder

3/4

teaspoon

salt

100

grams

chocolate chips

100

grams

dark chocolate chopped

flaky seasalt
Instructions
Preheat the oven to 210 degrees celcius.

Cut up the cold butter in cubes and mix with the white and brown sugar until creamy.

Add the eggs one by one until incorporated.

Add the 2 types of flour, salt, baking powder and cornstarch. Mix until everything has just blended.

Finally, add the chocolate chips en mix briefly.

Take an icecream scoop and place scoops of dough onto a baking sheet. Press some chocolate on each scoop. I could fit 6 cookies on one sheet.

Bake for 10 minutes. You want the edges to be golden brown. Let them cool off for 5 minutes and then transfer to a wire rack. Sprinkle some flaky seasalt on top and let them cool off. Repeat with the rest (wile chilling the dough in the meantime).

The cookies harden up a bit after cooling off so wait until that has happened before eating!
Notes
You can use a round cookie cutter to swirl the cookies in in order to make the cookies even and perfectly round. If you swirl them fast the cookies will be thicker again.