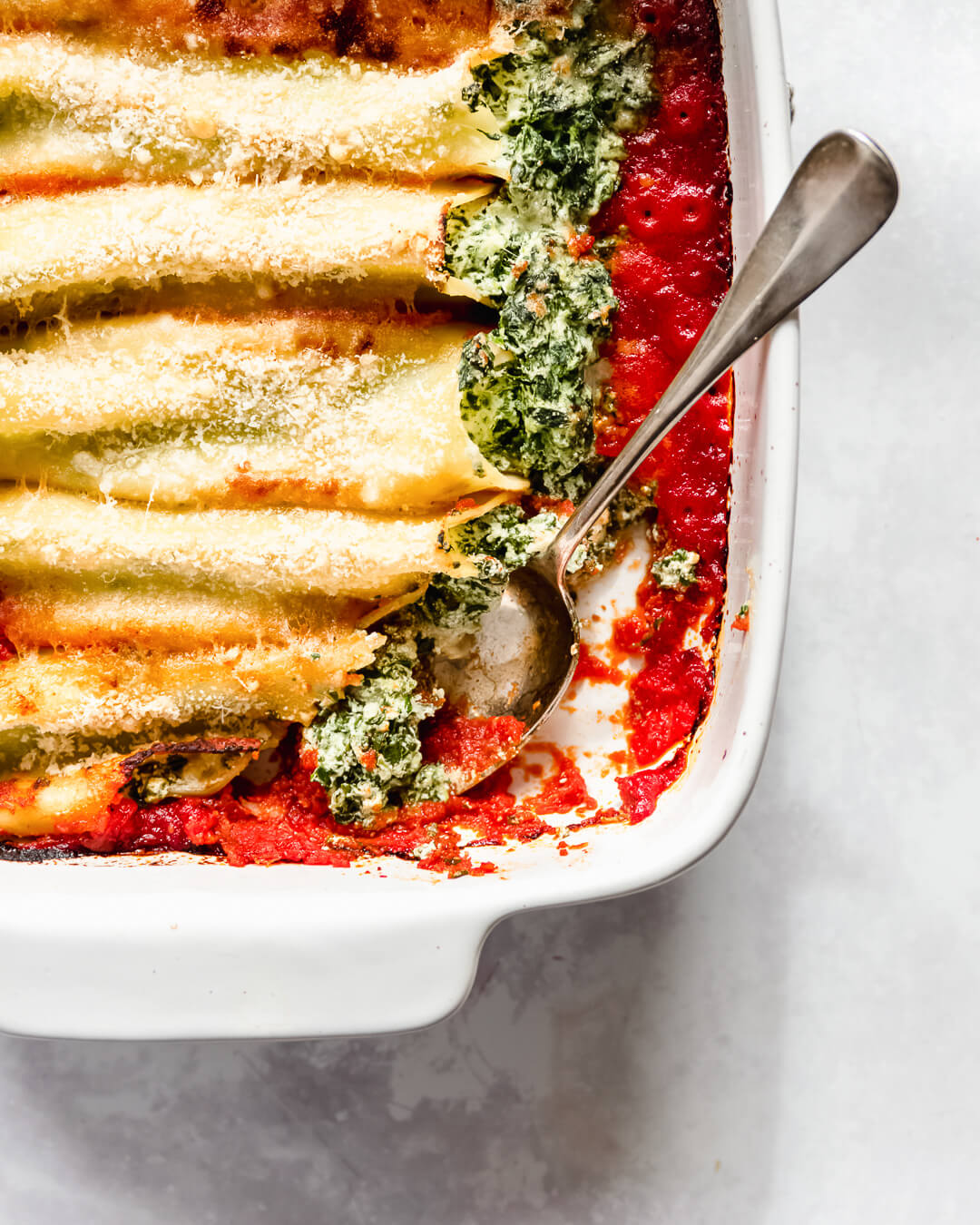 Spinach and ricotta cannelloni in a tomato sauce
I think this is a classic and that has a reason. The combination of the creamy filling with an intens sauce is amazing. The cheese (no, ricotta isn't cheese) combines the whole. Meat, what's that? You won't miss it here.
Cannelloni
A tip: use a piping bag for stuffing the cannelloni. It's so much easier than messing with a spoon.
Always blanche the cannelloni first. This way they're firm enough to stuff but don't need that long of an oven time. Also, the pasta will stick out of the sauce here so without pre cooking you'll end up with rockhard pasta.
Tomato sauce
I always get the tanned tomato without additives. But if you're in a hurry I reccomend this (I got to try this one)I always use this brand, no this is not sponsored, but I just like the taste.
Lowcarb
I you think 'sounds great but my jeans are getting tight, try this lowcarb variety I have online.
Spinach and ricotta cannelloni in a tomato sauce
Spinach and ricotta cannelloni in a tomato sauce
Ingredients
150

grams

cannelloni

200

grams

canned tomato

200

grams

spinach, defrosted

200

grams

ricotta

100

grams

parmesan cheese

1

teaspoon

oregano

1

clove

garlic, chopped

pepper and salt
Instructions
Preheat the oven to 180 degrees celcius

Boil the cannelloni in salted water for 4 to 5 minutes.

Make sure all the moisture is pressed out of the spinach. Mix with the ricotta and parmesan. Season with pepper and salt. Taste! You probably need more salt than you think.

Drain the cannelloni and let it cool off for a bit. In the meantime, season the tomato with the oregano, garlic, pepper and salt and divide in the ovendish.

Transfer the ricotta mixture to a piping bag and generously stuff the cannelloni.

Put the cannelloni's in the tomato sauce and divide the rest of the parmesan on top. Bake for 20 minutes.