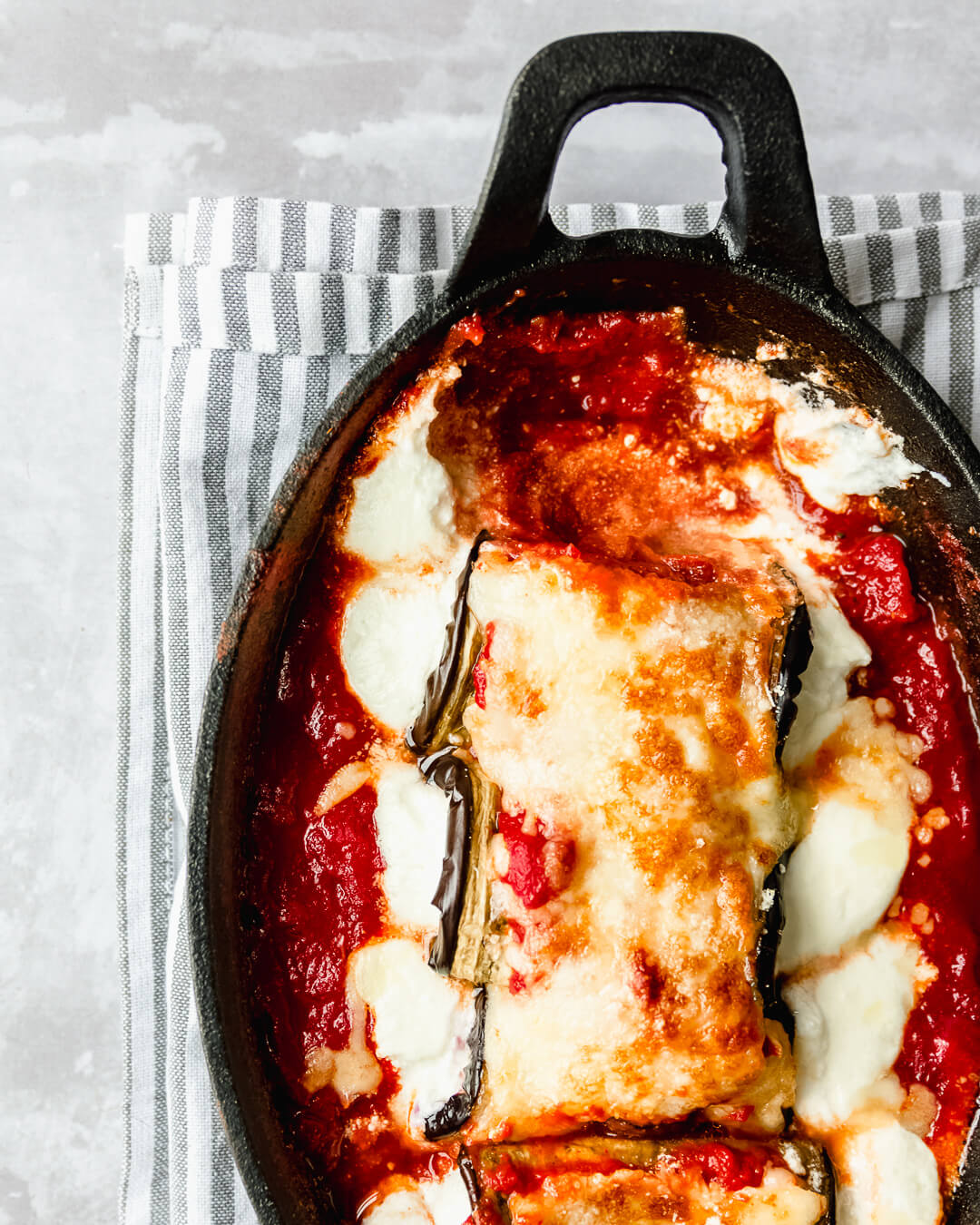 Aubergine rolls with feta in a tomato sauce
This is a bit of a fusion dish. Italian because of the tomato sauce and mozzarella and Greek because of the aubergine and feta. Even though I had a dish like this in Greece, but that was a bit more basic.
Aubergine
You always have to season aubergine with salt and let it rest. If you skip this step it will be bitter. We'll bake the aubergine slices first, you can't roll them up if they're still raw.
Mozzarella
In many dishes, like this bbq pulled chicken pizza, I use shredded mozzarella. Not a ball of mozzarella shredded but a storebought zakje geraspte mozzarellakind. These are low moisture and ideal for oven dishes.
Feta with Greek yogurt
I've mixed the feta with Greek yogurt for optimal creaminess. This gives the dish a very comfortfood feeling.
Aubergine rolls with feta
Aubergine rolls with feta
Ingredients
1

aubergine, cut in slices

100

grams

feta, mushed

2

tablespoon

Greek yogurt

1

can

diced tomato

2

tablespoon

tomato puree

1/2

teaspoon

cumin

1/2

teaspoon

paprika powder

handfull

grated mozzarella

1

tablespoon

parmesan cheese

pepper and salt
Instructions
Preheat the oven to 220 degrees celcius. Sprinkle salt on top of the aubergine and let this sit until the oven has preheated.

Bake the aubergine for about 15 minutes until soft and light brown.

In the meantime we'll make the tomato sauce by baking the tomato cubes, puree, cumin and paprika powder until the moisture has evaporated.

Mix the feta with the Greek yogurt. When the aubergine is ready, divide the feta on top and roll them up.

Divide 2/3 of the tomato in an ovendish, place the aubergine rolls op top and divide the remaining 1/3 tomato mixture on top. Then divide the mozzarella and parmesan on top.

Bake until the cheese has melted and is bubbly, this takes about 10 minutes. Serve immediately.